Have you ever wanted to try painting your kitchen hen cabinets but weren't sure where to start? Me too!
We finally took the plunge after talking to one of our local paint stores about if/ how we should paint the cabinets and what products we should use. We found out it really wasn't that scary, although it would require some work, and decided to just go for it!
We love the end result and after sharing it on Instagram we received so much feed back from you guys that you ALSO want to paint your cabinets ( well some of you anyways) but are scared or do not know where to start so here we go, lets do this together!
Here is the before…..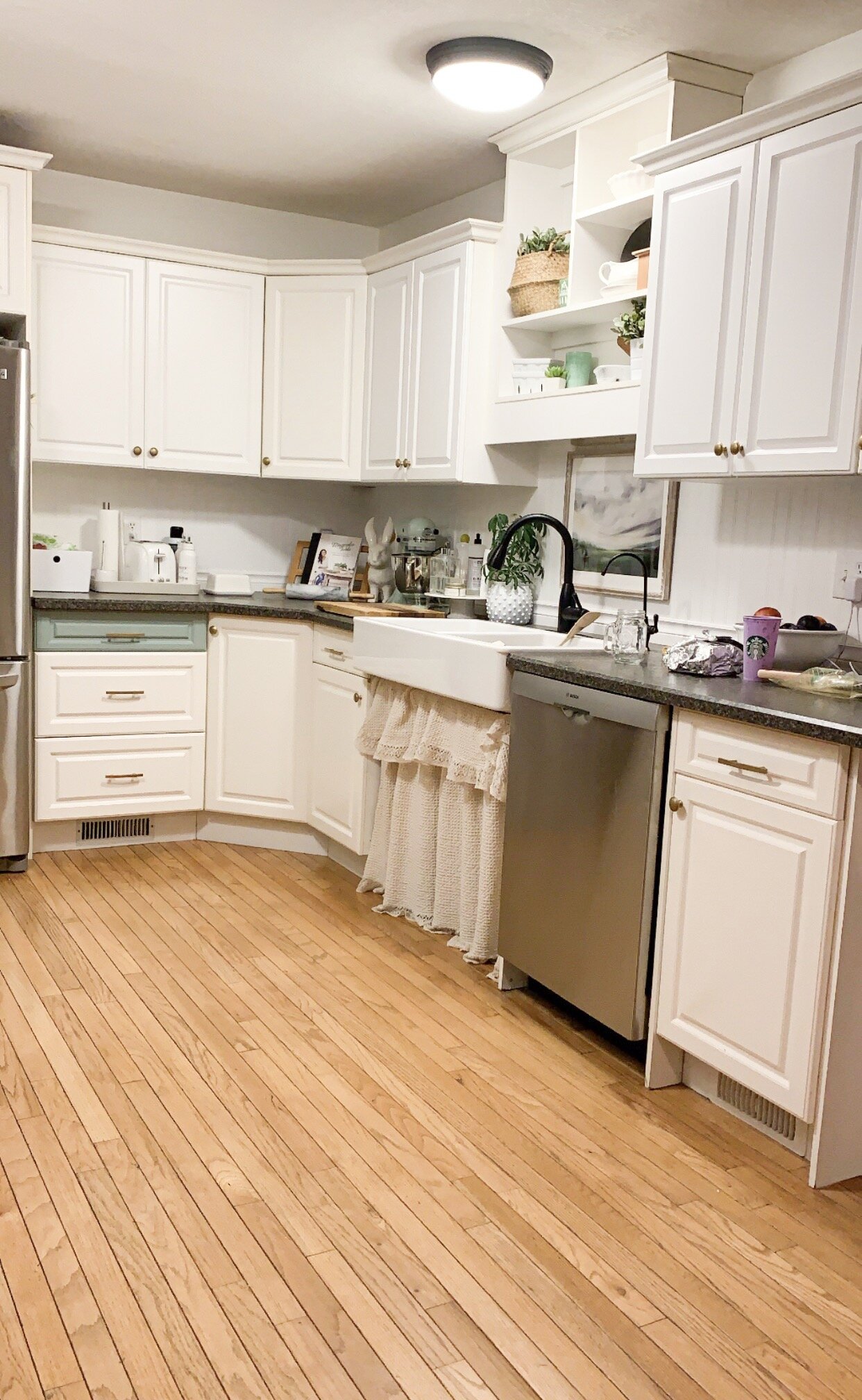 Here is the after….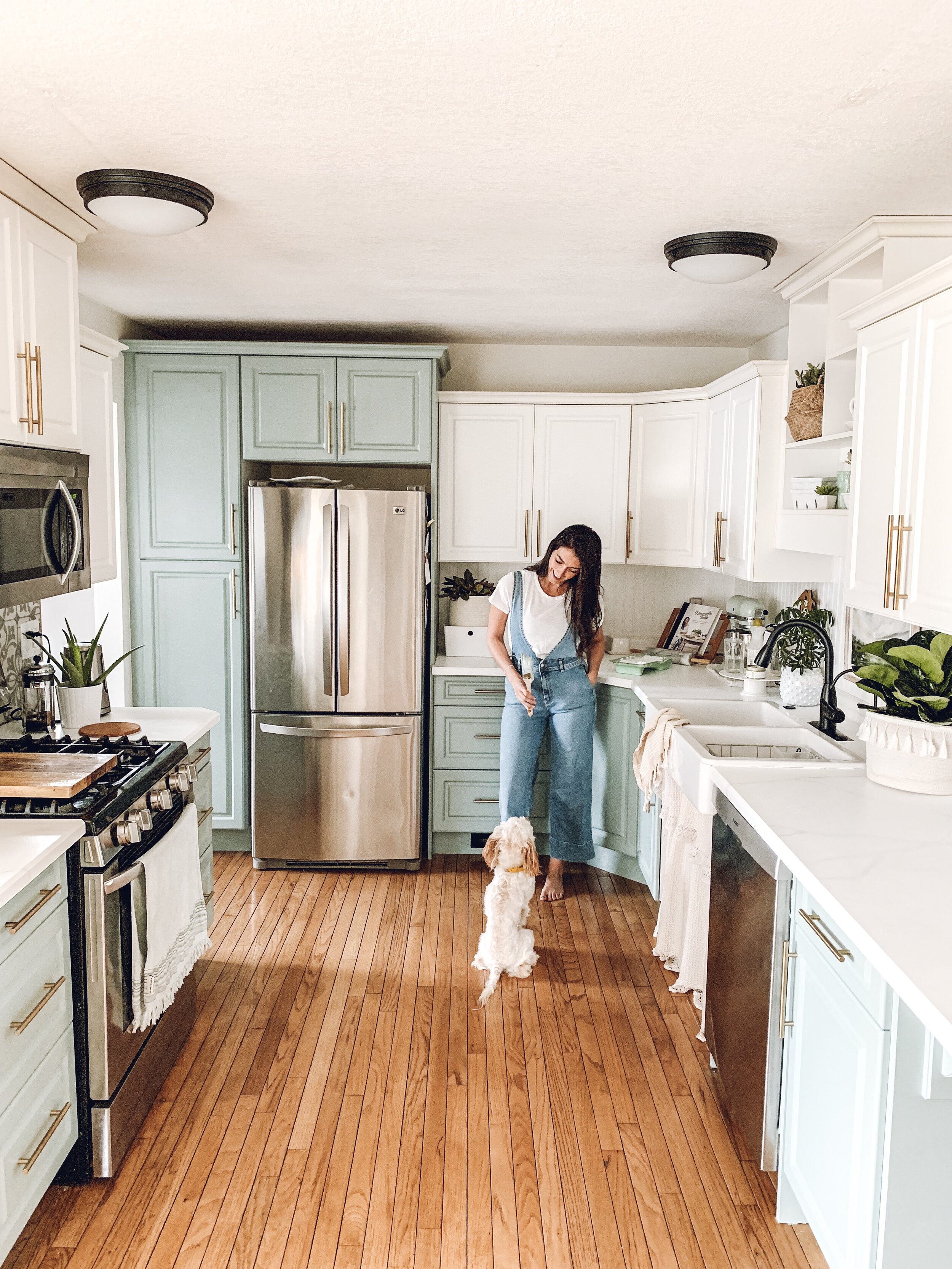 For this project you will need:
1 litre of bonding primer ( we used Zinsser 1-2-3)
1 litre of cabinet grade semi-gloss paint ( we used Sherwin Williams Emerald Urethane Trim Enamel)
2 small roller trays and 3-4 small foam rollers ( these wear out quickly as you paint and could leave behind residue so change out as needed while painting)
2 paint brushes ( one for primer one for paint)
drop cloth
painters tape
The first and most important step is to figure out what material your cabinets are and if they need to be resurfaced. Ours were melamine and the melamine was actually peeling off them, thats why we looked into painting our cabinets to begin with. My husband suggested trying to just pull off the melamine since it was basically peeling off anyways. This was SO easy to do, it just popped right off and did not leave any glue or gunk behind. If one of my drawers or cabinets wasn't peeling I just used a butter knife to lift the edge off and grab hold of it and then pulled from there ( I will have videos of this in my Instagram stories if you are interested)…. within 20 min all the lower cabinets and drawers plus the tall pantry had been stripped of the old, gross melamine.
Now depending on what surface you are painting you may end up going with a different primer. If you are unsure ask your local paint store what they suggest, they will probably suggest a bonding primer. We used Zinsser 1-2-3. I have shared my love for this primer in the past when I painted my daughters Ikea dresser ( 6 years ago mind you and it hasn't scratched since) with it. I also suggest using this in our painted faux marble countertop tutorial you can find here.
We did not sand the cabinets before hand as they were mdf, and if you are painting a glossy surface with this primer you shouldn't need to sand before hand either, thats they beauty of this paint, but do your homework and read the paint can first!
The key to this primer is it will need a good week to really adhere to your surface BUT that doesn't mean you cant paint over it right after its dried, it just means you will want to be REALLY careful around your painted cabinets for at least a week after they have been painted.
Next we picked up Sherwin Williams paint in the colour halcyon green SW-6213. I did one coat of Zinsser primer then two coats of SW-6213 and that was plenty. Let your cabinets dry. I removed my painters tape after the paint dried for 24 hours and then put in our new hardware too ( you can find it here).
And thats it! It really isn't scary you guys. I promise.
Some tips for painting are to use a foam roller and paint brush. I started by using my paint brush to get into the grooves on our cabinets and drawers and then the foam roller after. I also did not remove my drawers or doors but I would suggest this if you want to be extra cautious. or I would tape off the inside of my doors to help with paint splatter or drips. I didn't do this and we definitely have some paint on the inside of our doors but thats ok, they need to be repainted too one day.
A side note with the colour. This is a sage green, however when we painted a sample using basic low grade paint it dried much lighter. With the enamel paint it dried more on the blueish side and darker. I still love the colour but if you are nervous paint a sample using the actual paint you will paint with ( although this could put you out an entire can of paint if you don't like it….. choosing paint colours is hard work man).
I hope this helps those who were apprehensive to paint their cabinets that if we can do it, so can you! Its a super simple, 1-2 day project that only cost us the paint supplies and completely transformer our kitchen!