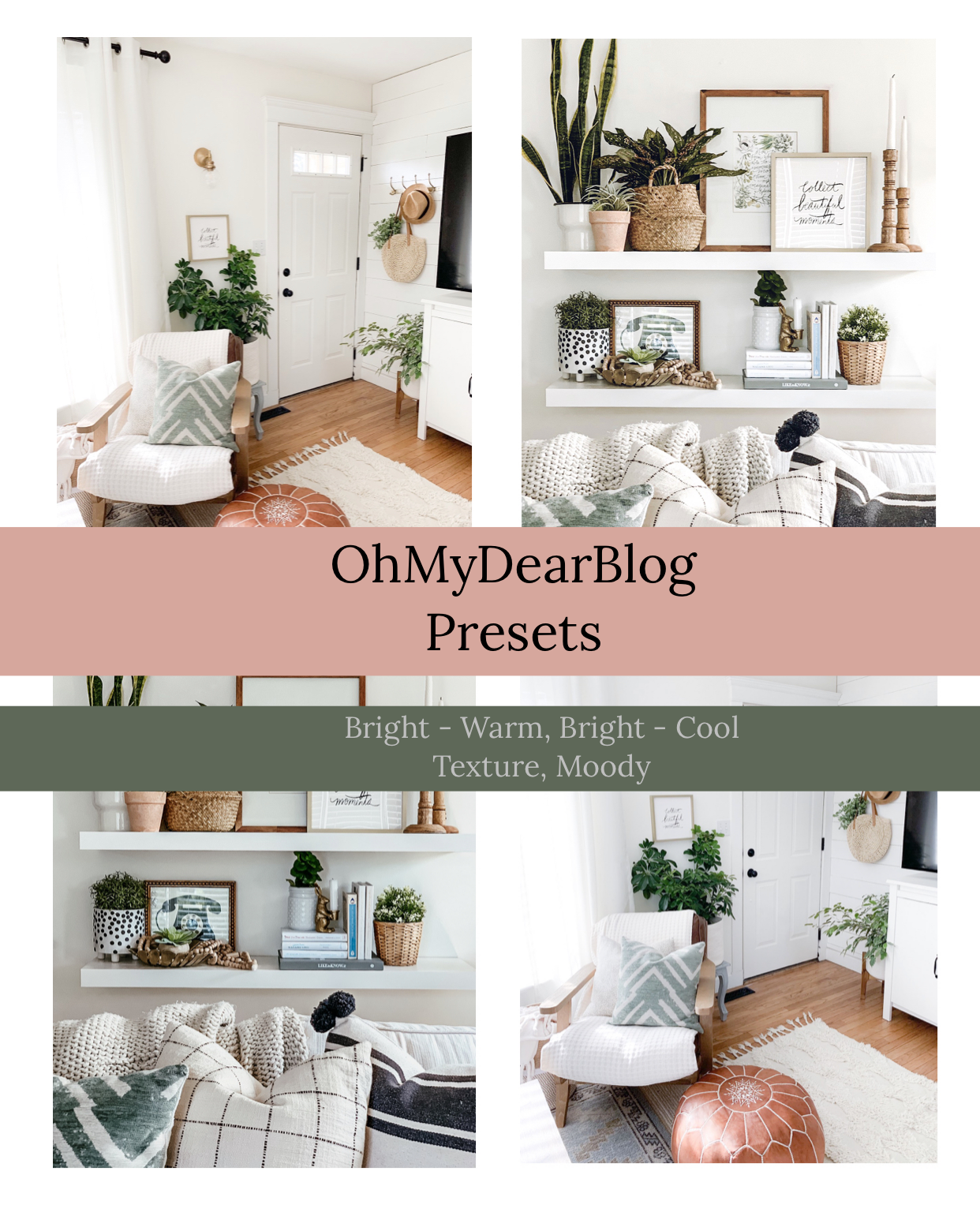 OhMyDearBlog Preset Pack
Tutorial for how to install Presets directly from your phone can be found on my Instagram account
@ohmydearblog in my saved stories.
OhMyDearBlog x4 Presets
Bright - warm
Bright - cool
Texture
Moody
These are the presets i use on my photos for the blog and instagram @ohmydearblog. Each preset works best in natural lighting. These work well on their own but also may require additional editing in Lightroom to gain your desired effect, depending on your space and lighting conditions.
Will be available to download immediately after purchase. Must use with Mobile Lightroom App.
~ no refunds~
How To Install Your OhMyDearBlog presets:
Step 1: Unzip the Files
The first thing you will need to do is unzip the folder of presets that you downloaded. You can easily do this on a computer. On a PC, just right-click on the zipped folder and choose "Extract All" from the menu of options. On a Mac, just double-click the file and Mac's unzipping utility does the rest.
If you need to do this step on a phone, you will need to download the WinZip app or iZip app to your phone. Open the unzip app on your mobile phone and locate the zip file on your device. Opening the files will unzip them.
( When I did a practice run of downloading these presets on my computer the file opened already unzipped but zipped on my phone. If your files download unzipped disregard the unzipping instructions and move on to the next steps. )
Step 2: Save the Presets
If you unzipped the presets on your computer, you will need to save the preset files to dropbox ( or another storage option), so you can access them on your mobile phone. I use Dropbox.
Drop Your unzipped DNG files into Dropbox. Once they are saved in your dropbox go to your dropbox app on your phone and click on the first DNG file.
2. Now click on the three dots in the top right hand corner
3. Click Export, then save as Save image
Repeat for all 4 DNG preset files. Now the DNG files are saved to your phone.
Please note: If you go into your photo stream and see them as blank picture files, don't be alarmed – that's how they should look.
Step 3: Open the Lightroom Mobile CC App
Step 4: Add the DNG/Preset Files
To add a preset, click on the (...) option in the top-right corner of the app.
Choose the Add Photos option.
On the next screen, choose the location you will be pulling your DNG/Preset files from. If you have saved them to your phone, choose "From Camera Roll". If you have saved them to a cloud storage option, choose "From Files".
Select the DNG/Preset files you would like to import. This step may be a little different depending on your mobile phone, however most phones offer a way to select multiple files/images.
NOTE: Preset files are DNG files. When you open the image, you may get an error that says, "Cannot Load File". This is normal. Press the check mark in the corner anyway.
Do these same steps for each DNG/preset file.
Now click each DNG file you just saved to your lightroom app and then when it is opened click on the (…) in the top right hand corner. Click Create Preset and in the section titled Preset Name you can name it the same as I have (OhMyDearBlog texture, moody, bright- warm, bright- cool0 or something else entirely. Then Click under Preset Group and add it to an existing preset folder or make a new one. Then Click the check mark in the top right hand corner.
Now for the FUN part!
Select an image in the Lightroom Mobile App that you would like to edit. Swipe left on the bottom options until you see "Presets" and tap on that option. It will open with your most recently used preset collection. By tapping on the collection name, you can choose the new collection you just installed.
Click through the presets until you find the one you like. When you are finished adding your preset, click the check mark in the lower right corner.
And that's it!
I hope your enjoy using the OhMyDearBlog presets!