Can you paint tile floors? Yes! In todays post I am going to share with you how we painted our back entry ceramic tile floors.
This is a super simple and easy DIY that can completely transform your room!
Does painting tile floors last?
At the end of this post I share how well our painted tile floors have held up! Spoiler, we still love them!!
Check out our other DIY posts:
I decided to try this project on a whim after staring at our old dingy ceramic tiles in our back entryway. We didn't have the budget or time to rip out these old tiles.
I was trying to think of a way to add some style to this space. I had recently painted the trim and walls and decided way not try painting the floors!
Thats the nice thing about older homes, its not as scary to try some creative solutions for updating a space. And this project ended up being so easy and cheap I had to share!
Painting your tile floors seems to be pretty popular these days. Most blog posts I found require specific kits by Rustoleum for painting over tile. We didn't use a specific floor painting kit for ours and they turned out great!
You could paint your tile all one color or the easiest application, or even try a stencil! We decided to go with a checkerboard pattern because I love all those old fashioned looking checker board marble floors that are on trend.
It's also a timeless look so I wasn't worried about it running its course too quickly!
After
Supplies needed for painting your tile floors:
Floor & Patio paint Benjamin Moore ( I used two colors, repose grey by SW and Kendall Charcoal by BM, 946 ml cans, this was PLENTY with more than half of the can left over for touch ups)
Hand Sander for prepping floors
Heavy duty cleaner for washing the floors prior to priming
Water based Varathane to seal them (this is technically for finishing wood but it works like a dream and is one of my favourite products ever!)
Roller
Paint brushes
How to paint tile
This project was easy in that its literally just a good sanding and then painting to floor but it did take about 3 days in total to complete the project.
We did some research on painting floors and asked our local paint supplier and we decided to go with Benjamin Moore bonding primer and their floor & patio paint for this project.
We weren't doing a very large area and ion the end only used about 1/4 of each of these 946 ml cans. A little goes a long way with these products.
For our checkered pattern we used Benjamin Moore Kendall Charcoal, and Sherwin Williams Repose grey. I ended up hand painting in our grout lines by mixing both colors together until I got the lighter shade I was going for.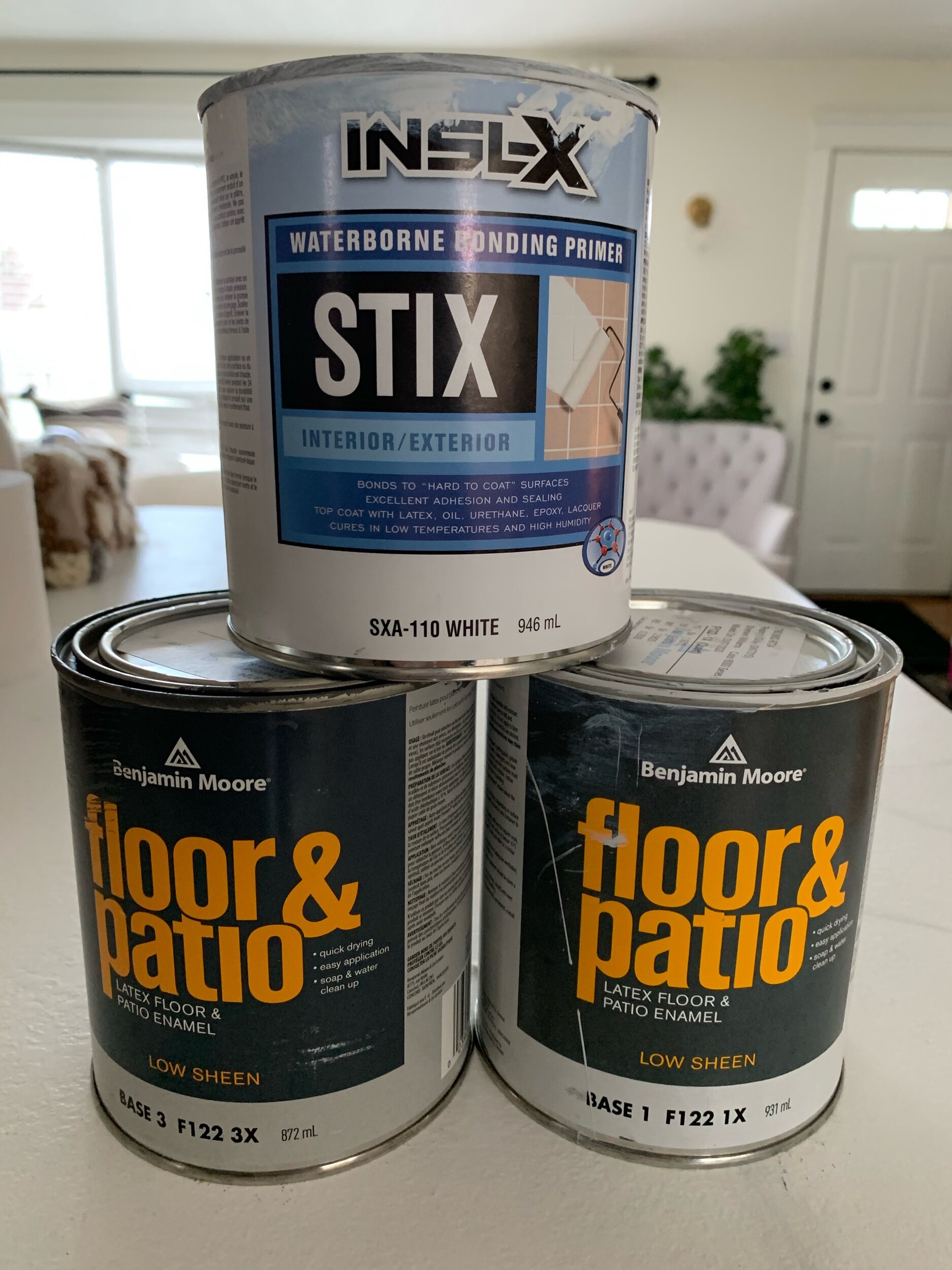 Step 1: Sand and Wash
To prep our tile floors we sanded the floors and washed them really really well.
Step 2: Prime and Paint
Then Jade primed the floors let them dry for 4 hours and started with our lightest grey. We didn't worry about staying in the lines with this color because we would be covering the other squares with a darker grey.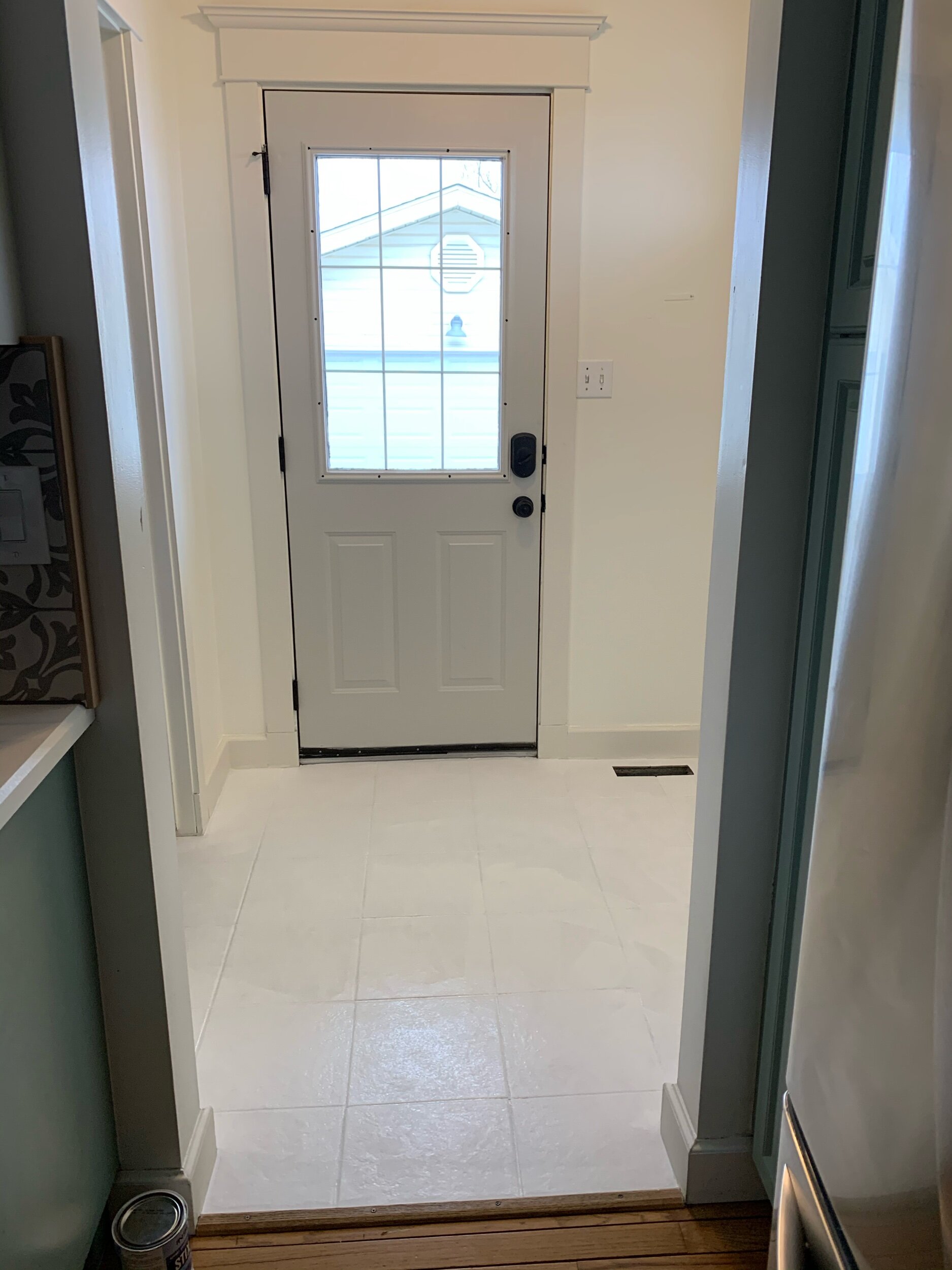 In the end I hand painted our grout lines but if you want to leave your actual grout, you could paint each square individually. We used a roller for ours and touch ups we used a brush.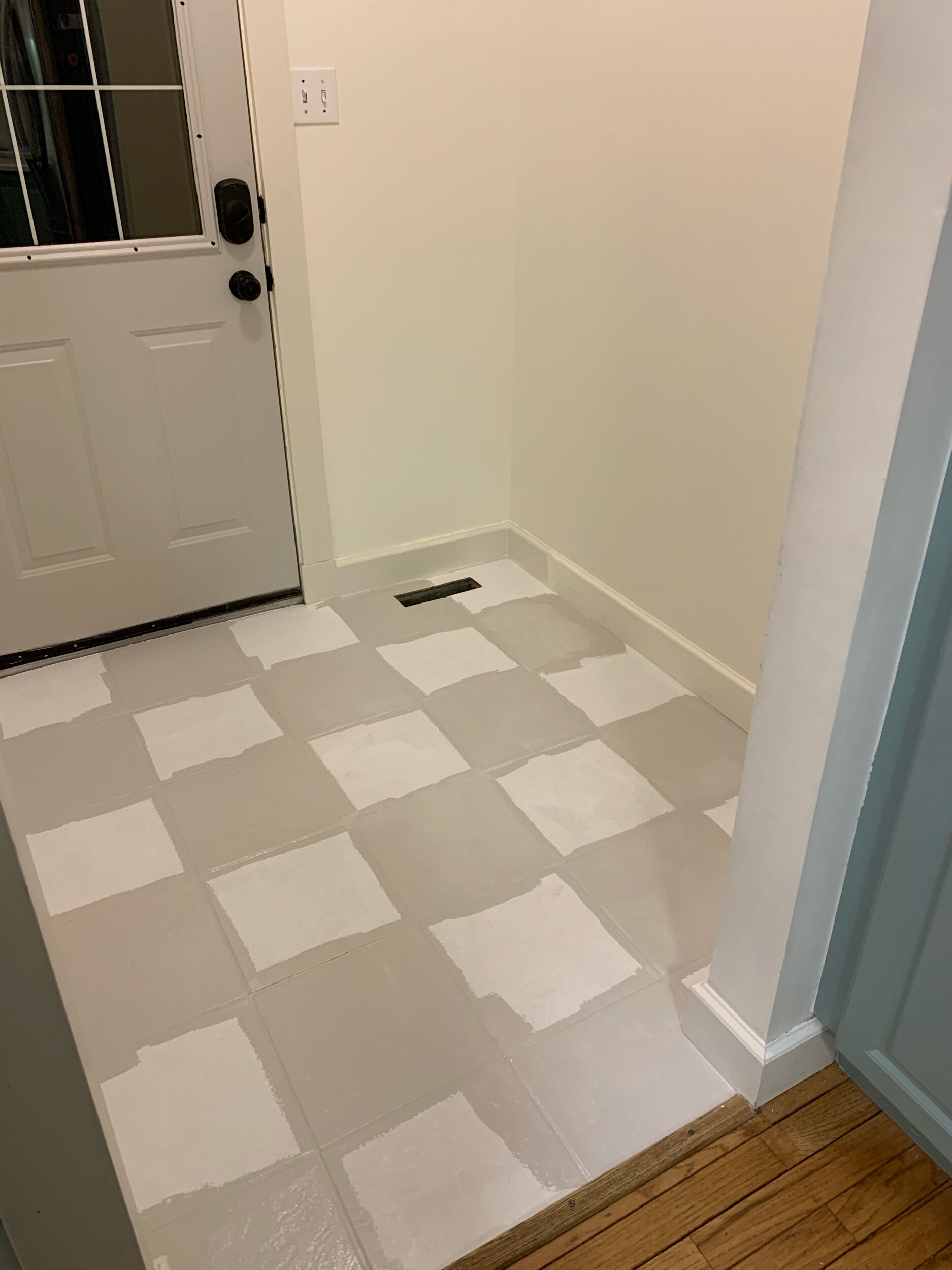 Step 3: Add varathane
After you have applied two coats of whatever paint colors you are using (you could easily paint your entire floor one color to update old ugly tile and it would still be beautiful) and let them dry overnight it's time to seal.
I have shared about my love for Diamond Coat Water Based Varathane in some of our other DIY project posts (how to paint your laminate countertops) and its what I used to seal our floors.
We asked the lady helping us at Benjamin Moore if we would need to seal the floors after using the floor and padio paint and she said technically you shouldn't have to but you can.
Because we were painting such a high traffic area as our back entryway we decided to seal them! This area gets s lot of use and people throwing shoes, skates, winter gear extra around it so I wanted these to be as durable as possible.
Water based varathane is incredibly easy to use. It also has a low odour for a sealant and a fast drying time.
Apply your varathane with a paint brush, not a roller as this could cause air bubbles, all over your painted floor. This does not have to perfectly level like other sealants or anything. It's incredibly forgiving.
Let the varathane dry for 2 hrs. and then apply another coat. Do these steps until you have 3-4 coats of varathane on your floor.
Let dry over night.
Do we love it?
I can't believe its been a year since we painted our ceramic tile entryway! Time sure does fly. We are still so happy with the results from painting our tile and we highly recommend it for a quick and budget friendly fix.
Touch ups
After about 8 months of wear and tear the only scratching we have had has been from a little rock getting stuck in the bottom of our Dyson and scratching some of the paint off.
We also have a bench in our entrway and I dragged it to the side one day and took a bit of paint off then too.
The good news? Its sooooo easy to do touchups with this floor and patio paint and varathane sealant!
I put together a little video showing our floors one year later and how to do touch ups if you end up having any scratches.
No need to sand again, just wash your floors well prior to painting.
When you first apply your color it is going to look a LOT lighter than your dried paint. This is totally normal and it will dry the same shade and blend perfectly with your floor.
Same goes for your varathane. After your paint is dry coat with varathane. It will level itself and blend in perfectly once dry. No need to varathane your entire floor again, just the section you touched up.
One year later
I still love them! I would recommend if your painted an extremely high traffic area like I did to possibly re-seal your floors every 6 months however if this is just too much work you can always do touch ups as shown above for any scratches!
Pin it for later
So what do you think? Would you ever paint your tile floors?
I hope you found this posts helpful! you can also follow along with us on Instagram and Pinterest!