**If you decided to try this DIY project on your countertops, you will be proceeding at your own risk. Every countertop is different and I make no claims in this post that this will not damage or not work on your countertops. Do your research, especially when it comes to a proper bonding primer and know that these countertops most likely will require maintenance and some touch ups in the future**
** If you use the paste wax to seal your countertops you will need to reapply paste wax every 4-6 months to keep your counters from scratching. I forgot to reapply after 6 months and noticed some small scratches. I am currently sanding them down and going to try applying polyurethane as a sealant and see if that requires less maintenance.**
Well you guys, even I was skeptical of this DIY project. I sat on it for about a year because I thought " but what if I ruin our countertops and we have to rip them all out…." but BOY AM I GLAD I went for it in the end!
We decided that now is the time while we live in an old house where the kitchen is so old its going to need to be either refinished or eventually completely gutted to try some bold DIY projects so first up is this DIY simple and fool proof faux marble counterop tutorial.
It really is easy, all you need is a good primer ( we will get into that in a min.), some craft paint, a feather, paint brush, and sponge and paste wax…. thats it! You will need about a litre of the primer and of the paint, a little goes a long way on your counter, and craft paint can be picked up at Michaels for around $1.75 each ( most likely less in the U.S), then you just need a feather and sponge and paste wax bringing the total to under $100!
So lets get to it!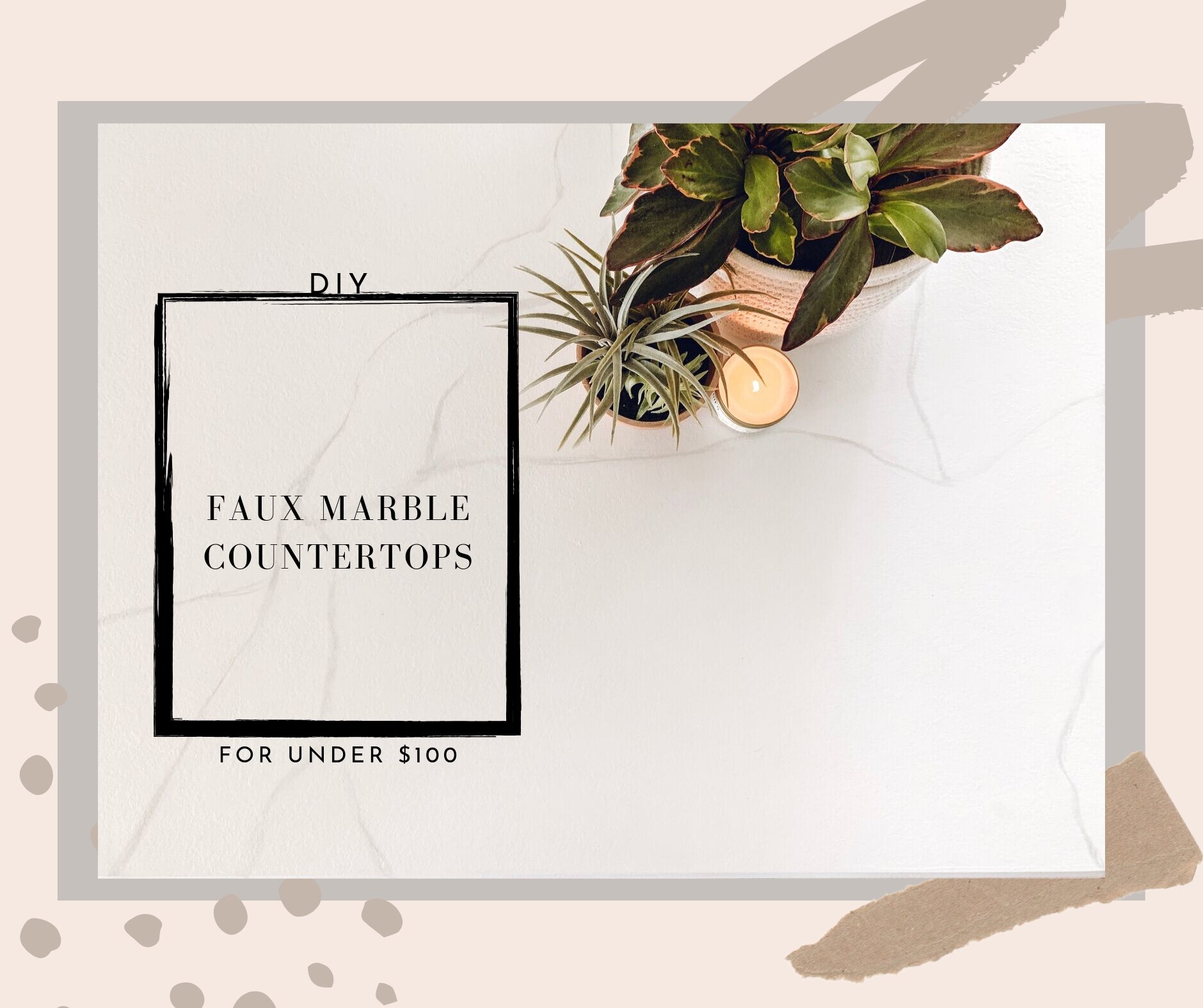 For this project you will need:
1 litre of Zinsser 1-2-3 ( or another multi surface primer)
1 litre of BEHR Ultra Paint and Primer in pure white ( whats on the shelf, no tint) in eggshell
2x Small sponge roller with rounded edge
2x Small Roller tray
Martha Stewart Craft Paint in the colour Dolphin Gray ( what I used) or Wet Cement if you would like a warmer grey vein.
1 craft feather ( I found mine at Michaels)
1 sea sponge or regular sponge ( also from Michaels)
A spray bottle
A dry clean paint brush
1 can of Johnson Paste Wax and rags to apply
I found lots of great tutorials on Pinterest and used a few as guide while doing this DIY however I did end up tweaking a few steps and none of those tutorials fit exactly how I wanted my veins to look. I did not want a busy marble but just a faint marble with mostly white for the countertop surface.
I started by taping off our wall and priming our countertops. Most tutorials said to sand any texture off your existing countertops but we decided to try skipping this step as our countertops were SUPER textured and we thought that would be more of a mess and headache then leaving them and just having a textured marble as our end result.
To prep your counters make sure they are VERY clean, then scrub with an SOS pad and wash really well. Then go over with 100 grit sand paper, just a light sand nothing too crazy to give your primer something extra to grip too. Then wash again. Make sure there is no gunk or grease on your countertops or the primer will not stick properly and you may have a mess on your hands.
I went with the BEHR multi- surface primer, as it was recommended on another tutorial however you could also use Zinsser 1-2-3 primer and sealer. I used Zinsser on our daughters Ikea dresser about 6 years ago and the primer and we have never had even a little of the paint peel or chip away, even though it was a glossy painted surface ( and I didn't sand it either). If you are unsure, go with Zinsser, its more expensive but I have had furniture hold up with it for years, and we have only had these countertops for about 10 days now so I can't vouch for the BEHR multi surface primer and how it will hold up over the long haul yet.
After coating our countertops with a thin layer of primer and letting it dry completely ( this primer dries really fast, another bonus) I painted 3 coats of BEHR Ultra Stain Blocking Paint & Primer in one. You want a pure white paint so this is not tinted but exactly how you would find it on the shelf. Our countertops were black with brown pebbling before so this may be why I needed 3 coats of paint but be prepared to let each layer dry in between. Because of the amount of layers we needed and drying time I decided to do each part of the kitchen in chunks from start to finish: primer – paint – veining – wax before moving on to the next section so that I wouldn't lose all my countertop space at once.
Once my paint was dry it was time to do the fun part, veining! I was very intimidated by this process when watching a video I found on youtube but it really could not be more fool proof, the trick is work in small areas so if you make a line you don't like you just spray with water and wipe away with your sponge.
Before you begin pick how you want your veins to look when you are done. You can do some research by googling marble slab images or even pick up a small piece of marble from your closest countertop supplier to use as a guide. I just went wherever the wind blew me haha but I love how creative you can be with this project however you do not have to be a artistically creative person to get your desired look! BE BRAVE, I believe in you, you can do this.
I did only vertical lines on the smaller pieces of countertop in the kitchen aka beside the stove and our little desk area but on the larger countertop near the sink I did vertical lines and horizontal connecting them ( this was my husbands idea….. he's often the brains behind my spastic way of doing projects) and I love how it turned out.
Mix your craft paint 3 parts craft paint 1 part water
Paint your line by dipping your feather in the craft paint and then dragging it across your countertop and twisting it as you go so you do not have a perfectly straight line. Remember to do small chunks, you can easily blend your line together.

Use your paint brush and stipple the paint on top of the line. If you want a more diffused line spray a small amount of water on top then stipple. Make sure to brush the paint that seeps away from your original line back into your original line ( you will see this process in the video below).

Take your sea sponge and wipe away any excess water

If you want a darker line or a more variegated shade add a bit more craft paint in some areas of your vein and not others. This will give your vein dimension.
Here is a video of this process for visual learners like myself!
Once you have completed all your veins and they are completely dry you are going to apply a watered down paint solution using 3 parts water to 1 part paint of your pure white paint. This will tone down your veins and make them more realistic. Let dry completely.
Now its time to seal your countertops. I used a paste wax to seal mine, and did three coats. Let it dry till it looks kind of cloud then buff with an old T-shirt or rags, then apply another layer and so on. Make sure to apply wax all around the edge and even under the lip of your countertop ESPECIALLY where your dishwasher is, to help seal the whole surface.
I know in the end they are not as glossy as a real marble countertop however I wasn't willing to use an epoxy (messy) and a polyurethane would eventually wear around the sink so I found a tutorial that used 3 layers of paste wax and this way when you need to touch up areas like around your sink you just buff on more wax! The tutorial I found used this on a countertop that became a vanity top for her bathroom and she said its remained in perfect condition even after a couple years.
After living with these countertops for about a week now I can say the paste wax is great for surfaces where water will splash on because the liquid just beads on top and you wipe it away!
I would recommend leaving your countertops free of heavy objects for as long as possible! Ideally up to a week to really let the primer bond to your countertop. I will also be applying more wax every 3-6 months to my countertops just to be safe. It didn't say in any tutorials I read that this was necessary but just to be cautious thats what I plan to do.
Use a sharp knife or x-acto blade to cut under your painters tape before removing. As you peel the tape back you may notice that the paint seems elastic and pulls away a little as you pull. Ours did this but it reclaimed its original shape after we were done pulling the tape away. Your last step is to caulk your countertops where your backsplash meets the counter and around your sink, garburator button, water spouts etc.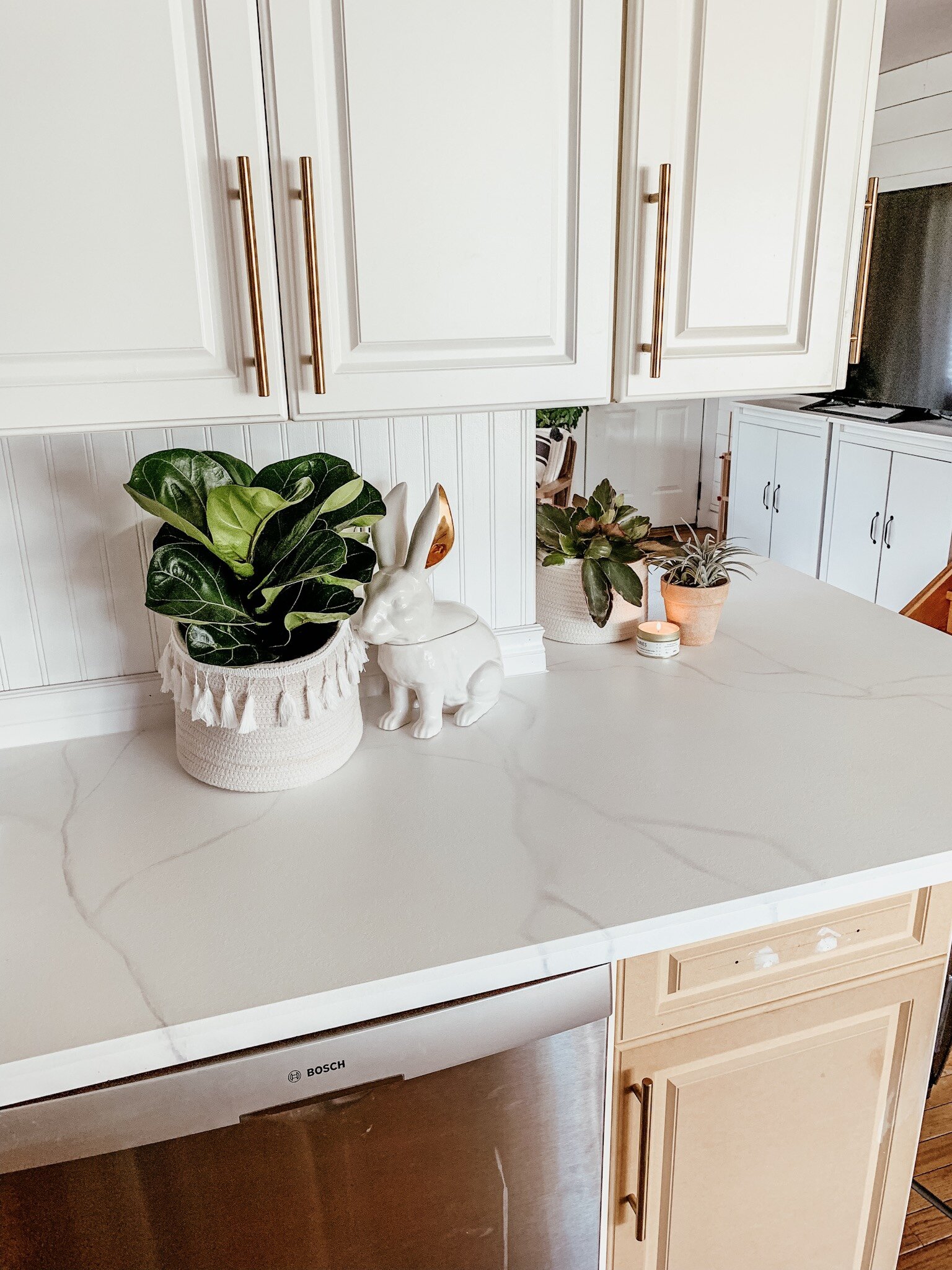 I am so thrilled with the end result! When company has come over no one can believe they are painted countertops! I kept saying to my husband that I really thought this was going to be my biggest DIY flop yet haha but it ended up being my favourite DIY I have ever tried, and a really fun project too!
So what do you think? Are you ready to try painting your countertops? Make Sure you are following along with us on Instagram for more behind the scenes videos in our stories as we work on our next kitchen project… painting the cabinet doors!
cheap kitchen countertop DIY easy DIY Kitchen makeover kitchen Reno ideas section 1