Step by step instructions for building a shiplap electric fireplace.
Who doesn't want a fireplace in their home! This easy DIY for creating a fireplace with shiplap that uses an electric insert making it possible for everyone to have a fireplace in their home! The clean lines of this minimalist white shiplap fireplace would be perfect for almost any home decor style. Easy to follow instructions below!
Easy DIY Shiplap Fireplace with an Electric Insert
Ok you guys! We are so excited to bring to you this DIY tutorial for building your own shiplap fireplace using an electric insert. I have wanted a fireplace in our dining room since we moved in.
Our dining room has a lot of windows in it and it can get very chilly in the winter, plus we don't have a fireplace on the main floor of our house and I love having an actual mantel to increase the coziness factor (as well as decorating it for Christmas… priority's am I right…).
We have included all the details on how we ( and by we I mean Jade) built this DIY fireplace with shiplap, and have partnered with the Home Depot Canada to show you all the supplies you will need to make one yourself!
So without further ado take it away Jade!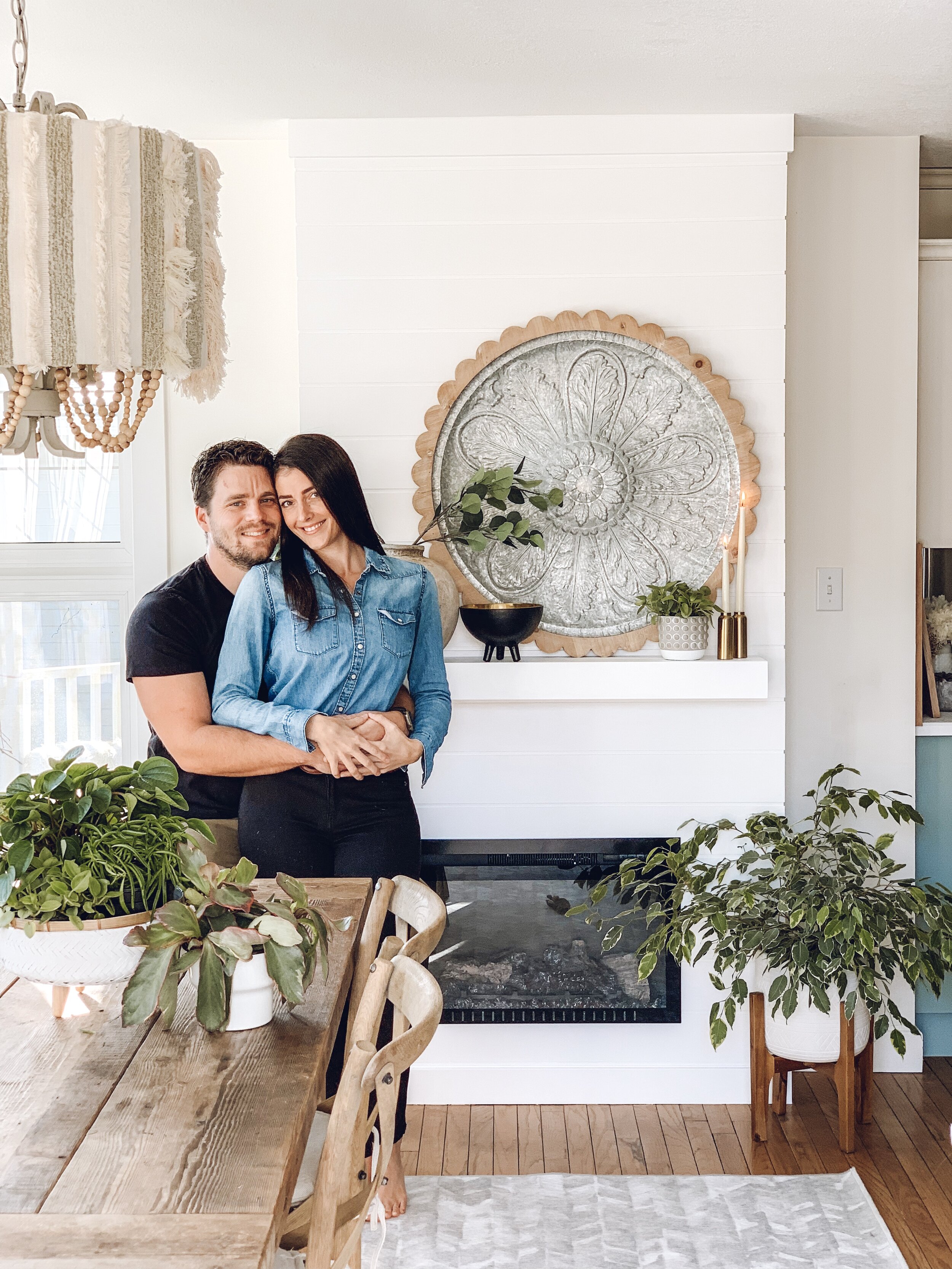 Materials needed:
Tools needed:
Mitre Saw
Hammer or Drill
Tape Measure
Table Saw (Or Circular Saw)
Brad Nailer
Router (This isn't necessary but made cutting out the holy much easier and more precise)
Caulking Gun
Painting Supplies
Stud Finder (If you are really skilled you can knock on the wall and listen for the studs, but I'm not that skilled!)
Level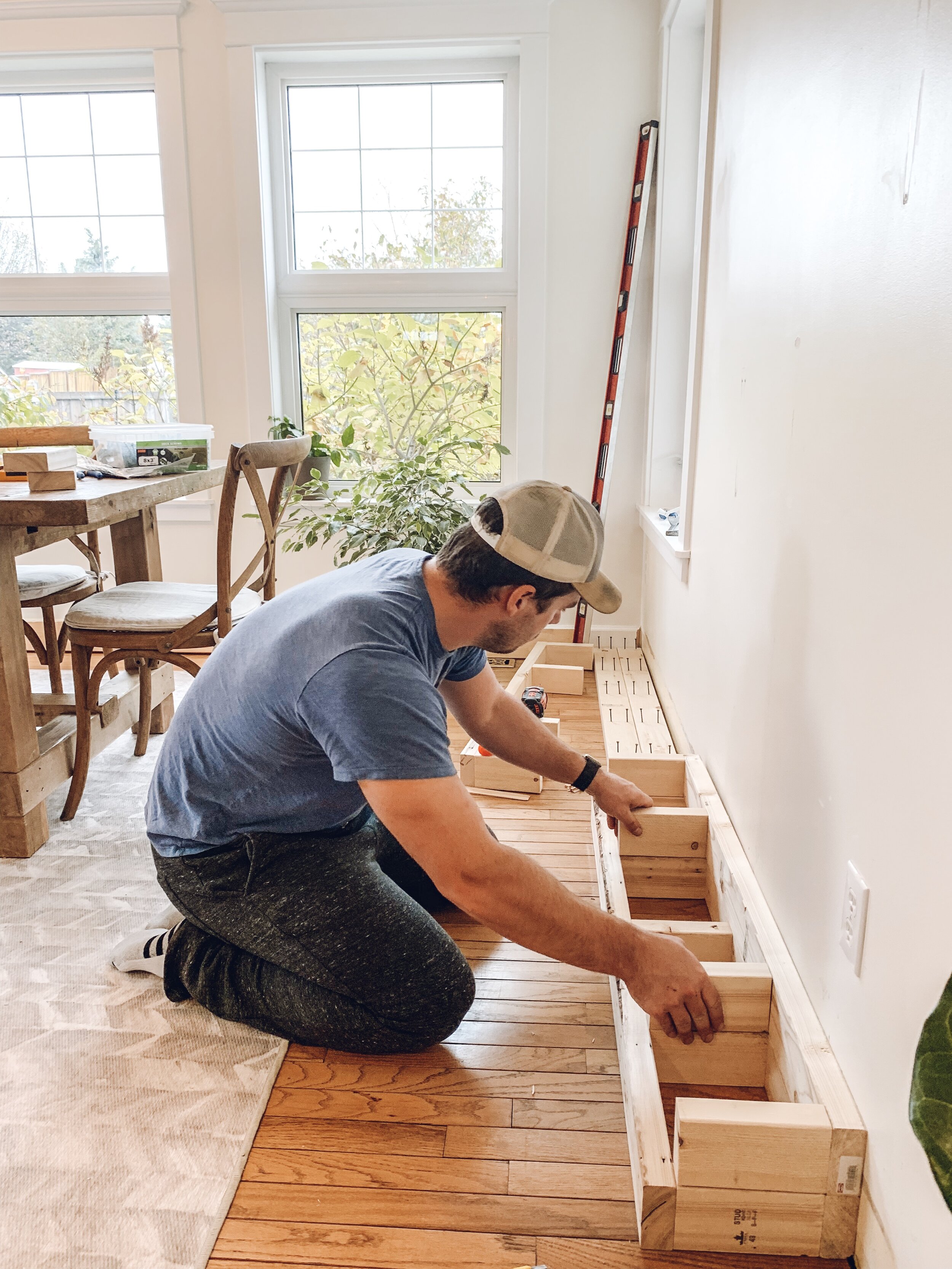 How to make an electric fireplace with shiplap
Step 1:
I started by making a small frame like so for the top and the bottom, and then secured them into the wall studs with 3" screws. I made 2 frames on the bottom, because that height plus the plywood, (you'll see that a few pictures down) was the exact height we wanted to fireplace to sit above the ground.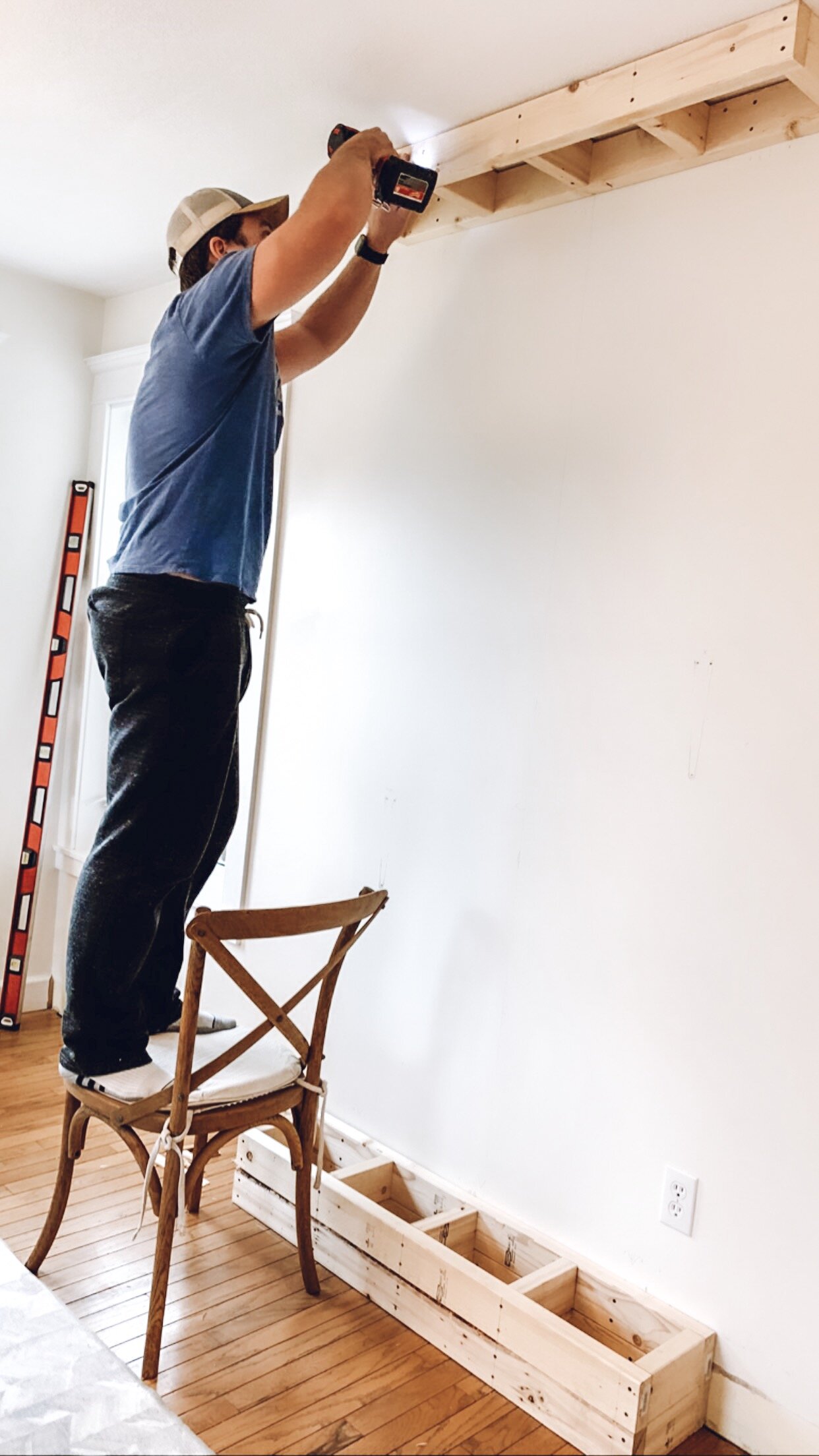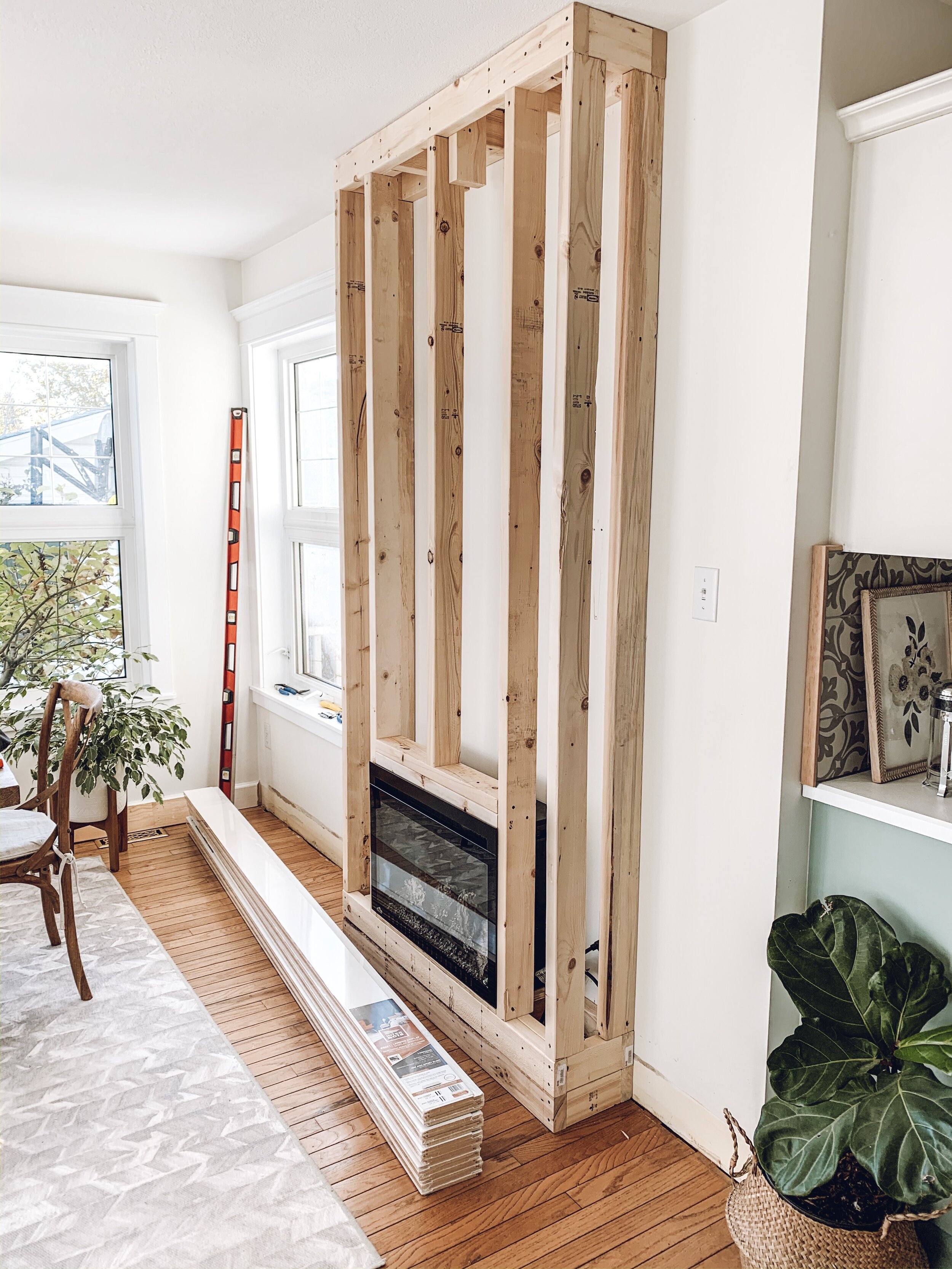 Step 2:
Then I measured the distance between them and cut the studs to length, and attached the frames together. I had to measure each individually because like most homes (especially ours as it was built in 1977) are not square.
So the left side is actually almost a half inch longer than the right, you have to be very careful to notice this when it comes to adding the shiplap because if you start your first board even with the ground, and work your way up, your last board at the top will be very uneven and funny looking.
The fireplace came with mounting instructions showing the opening size it fits in to. I used this to space the width between the 2 vertical studs beside it, and the height for the horizontal studs going across.
I also added a centre stud on top, primarily so that when I attach the mantle later, I will have 3 studs to mount to, that will be very easy to find.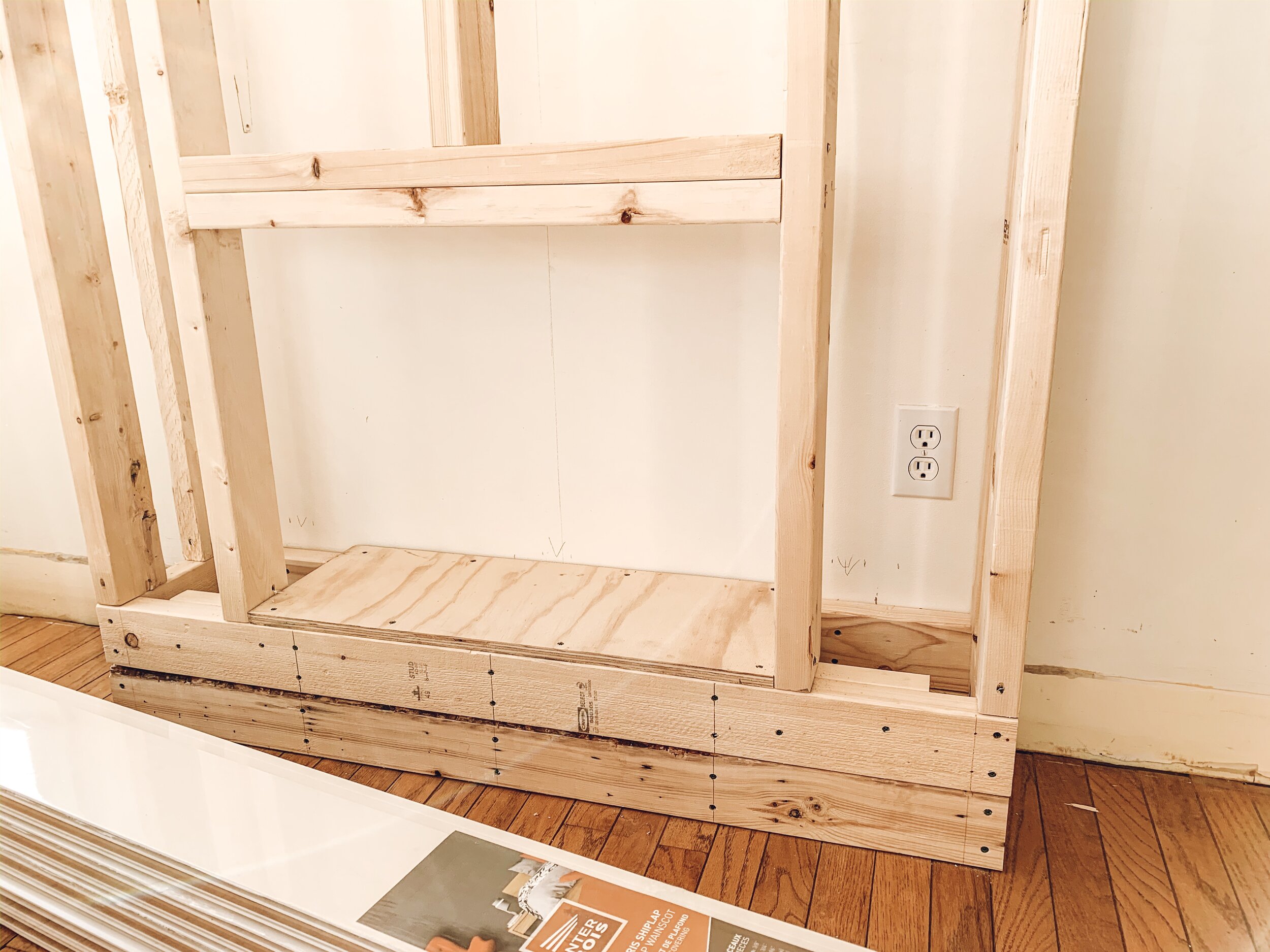 This is the plywood base I mentioned earlier that the fireplace will sit on. I was a little bit tricky to slide the insert in, so this really helped that the plywood went all the way front to back.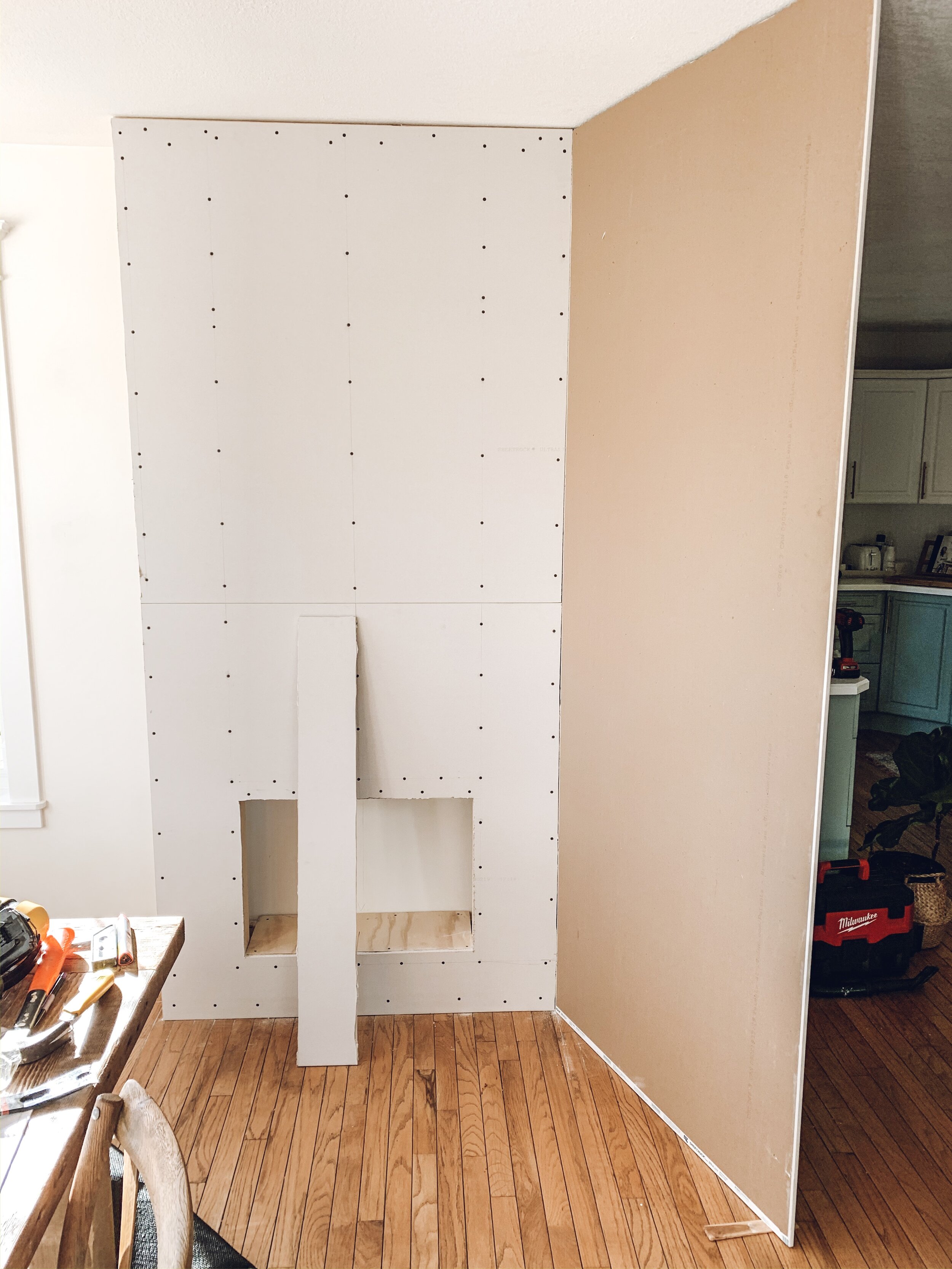 Step 3:
Ok, so here's where I did a bunch of unnecessary work. I was loosely following another blog's DIY who did a similar fireplace to this, but with brick.
Now, when you are doing a faux brick, you will need this drywall to attach the brick to, but shiplap, by its very nature, is designed to attach directly to the studs.
Of course, I realized this once I already had 2 or 3 rows oh shiplap in place. This is why you see on all those renovation shows when they are excited to see the old shiplap behind the drywall! Oh well, that was 40 minutes of labor and $30 of material for nothing..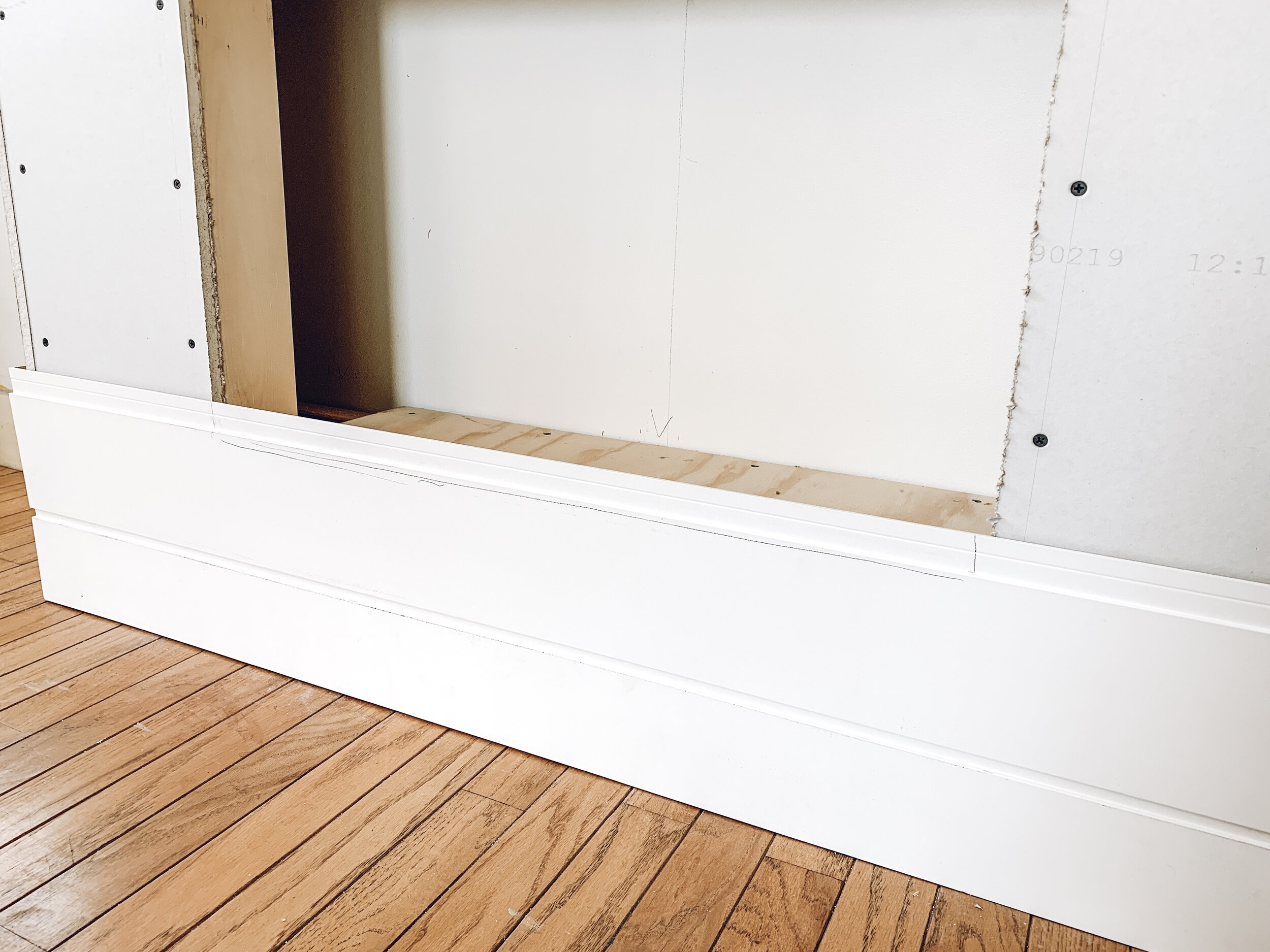 Fitting Your Shiplap
A couple things about this picture. First you can see that I cut the bottom piece lengthwise so it is a little bit skinnier than a normal piece. This was to avoid a tiny little piece at the top.
I figured out how many full pieces it would take to get to the top, and what was left over, and then split the difference on the top and bottom piece.
You will also see that the bottom piece is level, which because of my un-level floor has a gap or the left side while its touching the ground on the right. This will be covered with trim later.
It is very important to start level, these first 2 rows took me about as much time as the next 10 rows took. Partially because I am learning as I go, but also because you have no even base to start off of.
Here is where I used the router. I had to be very precise here, because the insert we chose had no overlap on the bottom as a coverup.
The sides and top of the glass stick out an inch or so to cover up your edges, but the bottom was flush so I had to leave a little bit of shiplap sticking up on the bottom.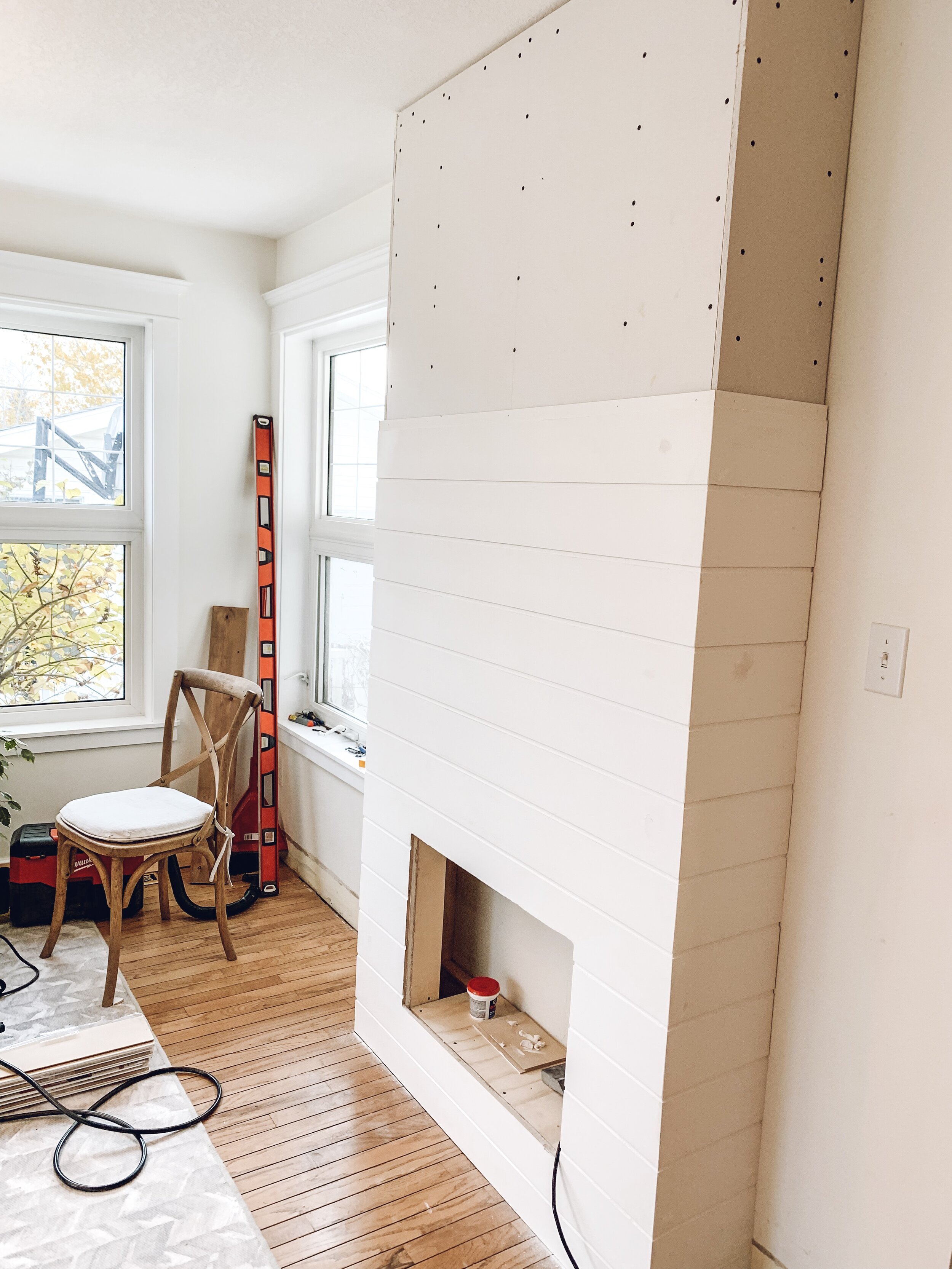 This shiplap has a line on the top where you nail through. This really helps to get it in the right spot so it will get covered up by the next piece. You will have to put some nails in the face as well, but not many, each of these has to be filled if you don't want them to be seen.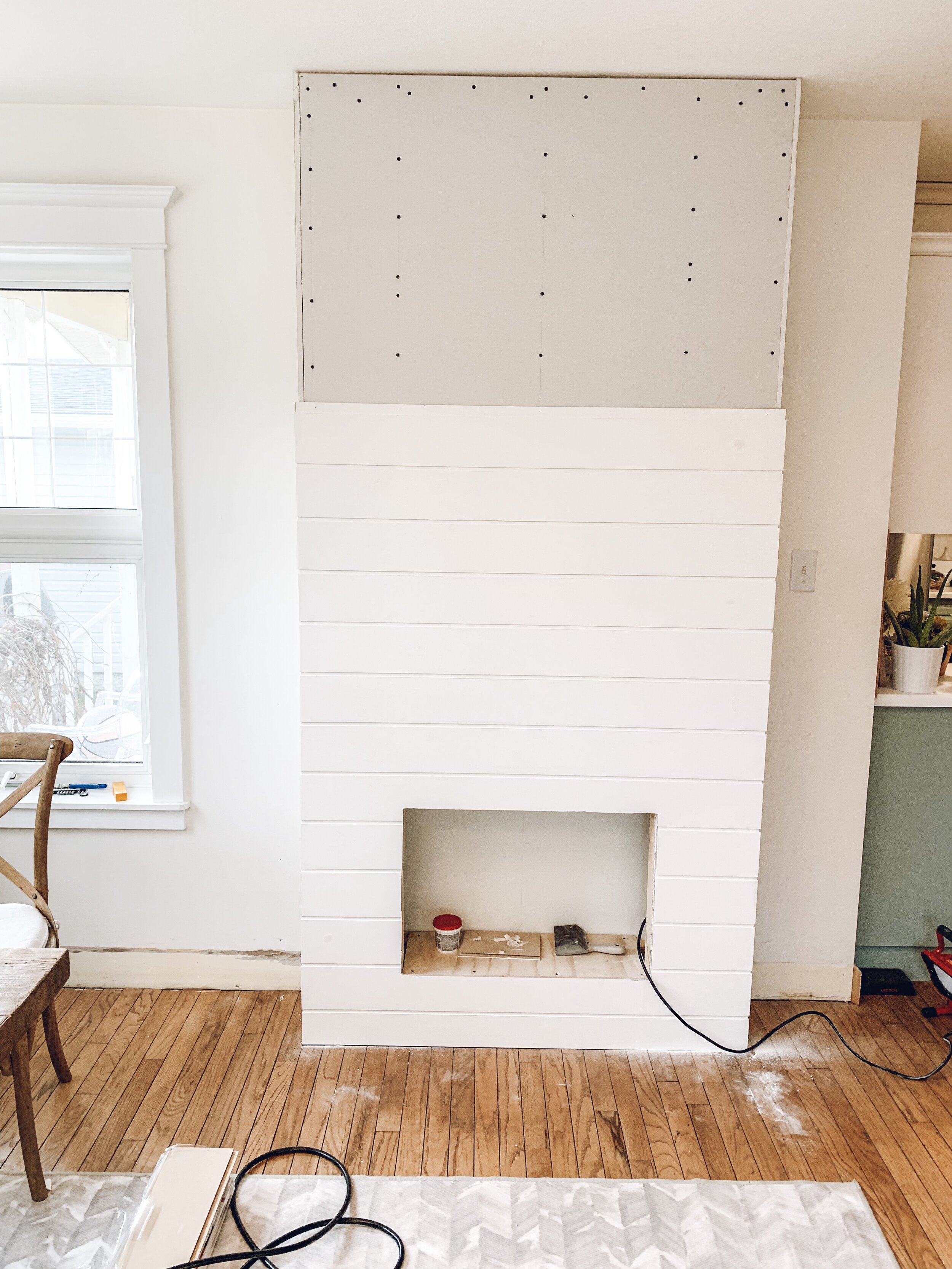 Is that a cute kid or what!? She was really excited to see if she could fit in the hole…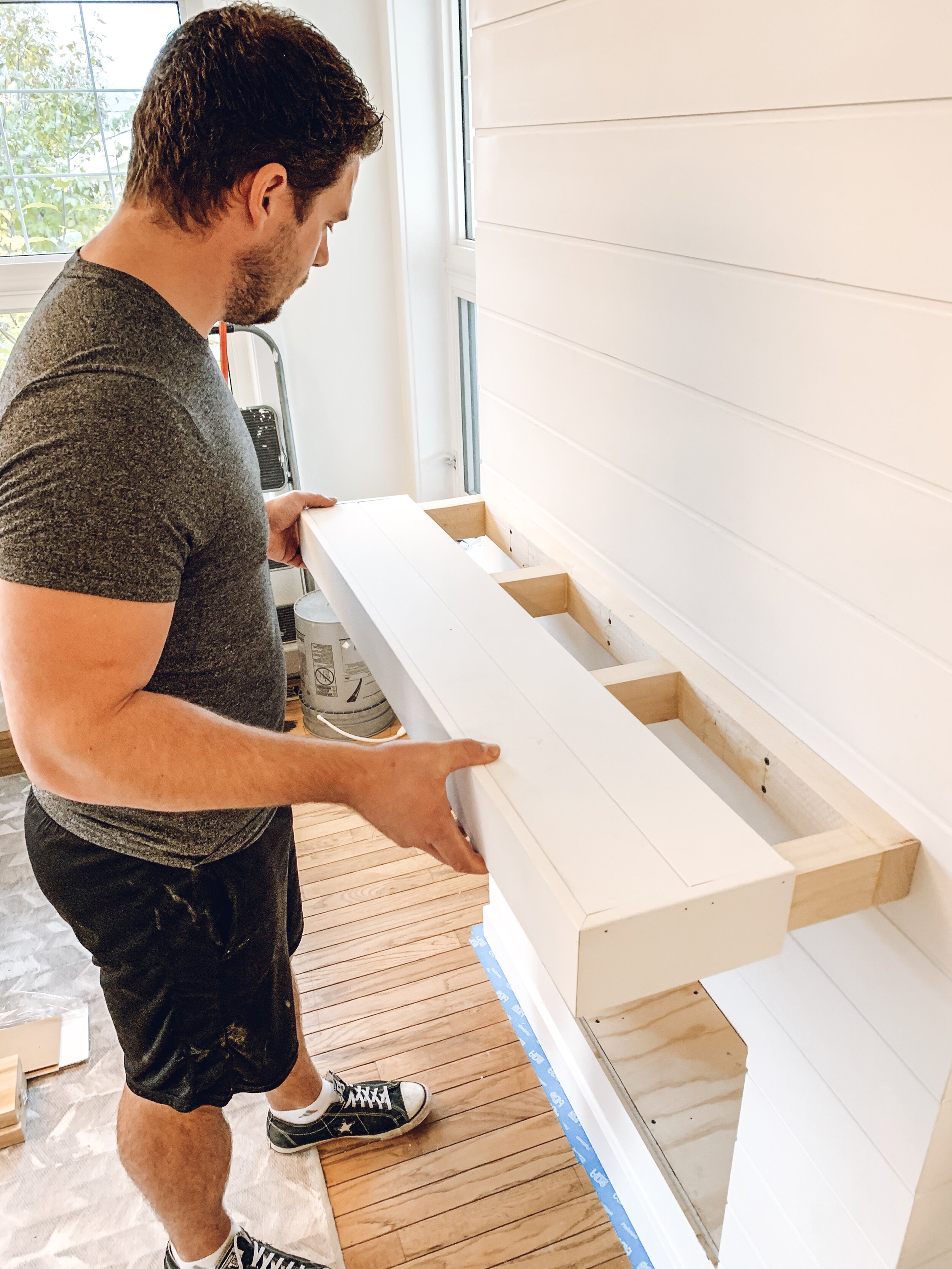 Step 4:
Now here is a funny part of the build. We were trying to decide between a white or a wooden mantle. I had already purchased the cedar, as per our original plan, but we weren't sure that we could stain it just the right colour to match the flooring.
I suggested maybe just a white MDF mantel, so I grabbed some leftover trim from a past project, and quickly tacked together a prototype just to see how it would potentially look. Turns out it looked great!
So I was about to head back to Home Depot to buy some MDF sheeting to build a proper box, but we both agreed the look of the lines on top between the baseboard pieces actually looked better so we kept it. And that saved me a lot of work 🙂
I used a similar frame as the start of the project for the support. I had to rip it down to size so it would fit inside the mantel box. Then I put some wood glue in the top side of the 2×3's and slide on the mantle, and brad nailed it in place.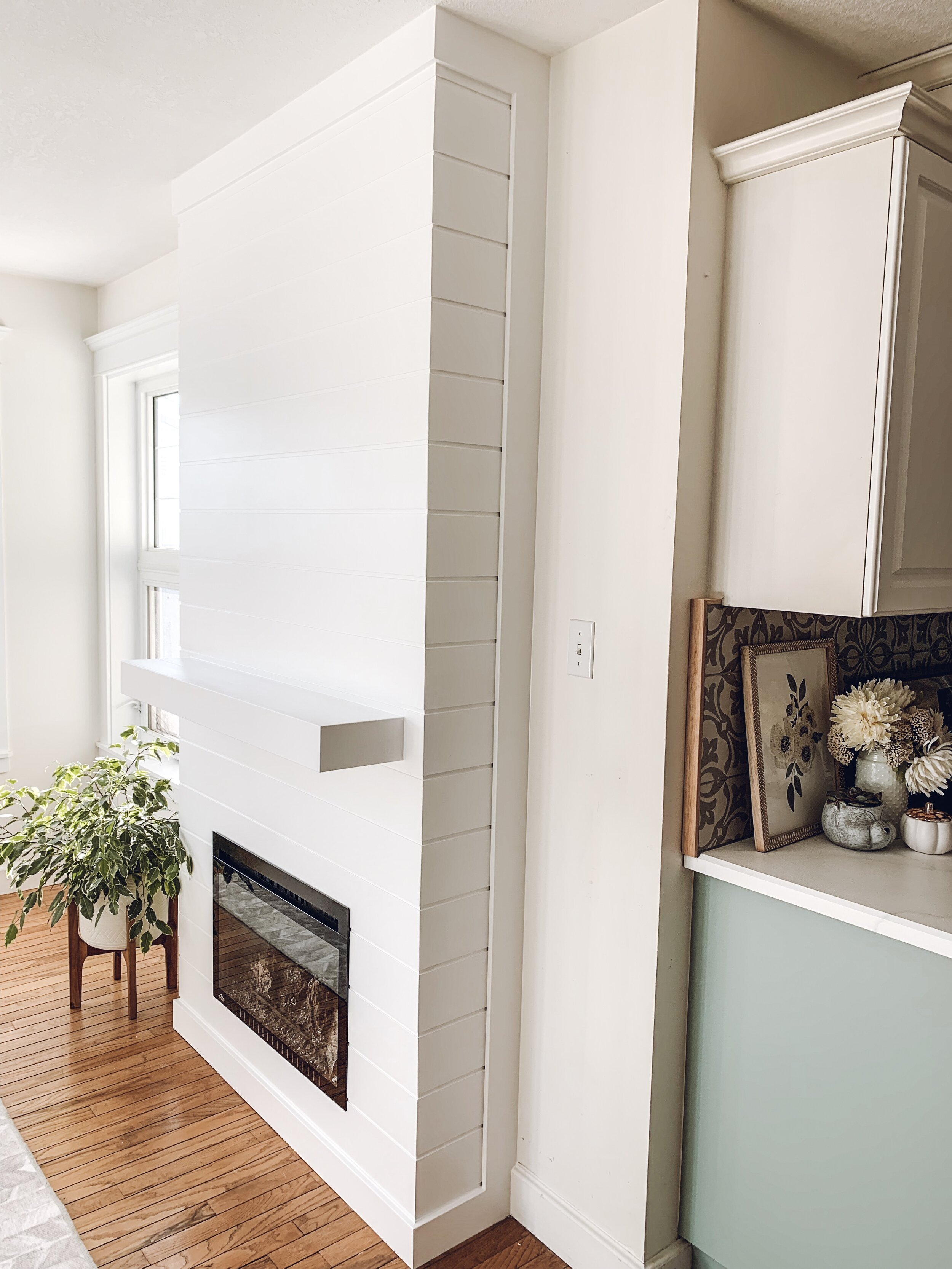 Step 5:
Once I had the mantle in place, I used some more of that same trim and went all the way around the floor and the walls to finish it off. With the trim like this you are left with every clean lines all around the outside of the project. Then with caulking around the outside, and DryDex filling in all the nail holes we were pretty much done!
But just before the fireplace went in was the worst part of the whole build. Painting… I am not a big fan of painting, I am not very skilled at it, and I am also a perfectionist, so this took me probably 2-3 times as long as it should have. But it was worth taking it slow because in the end the final product looks great!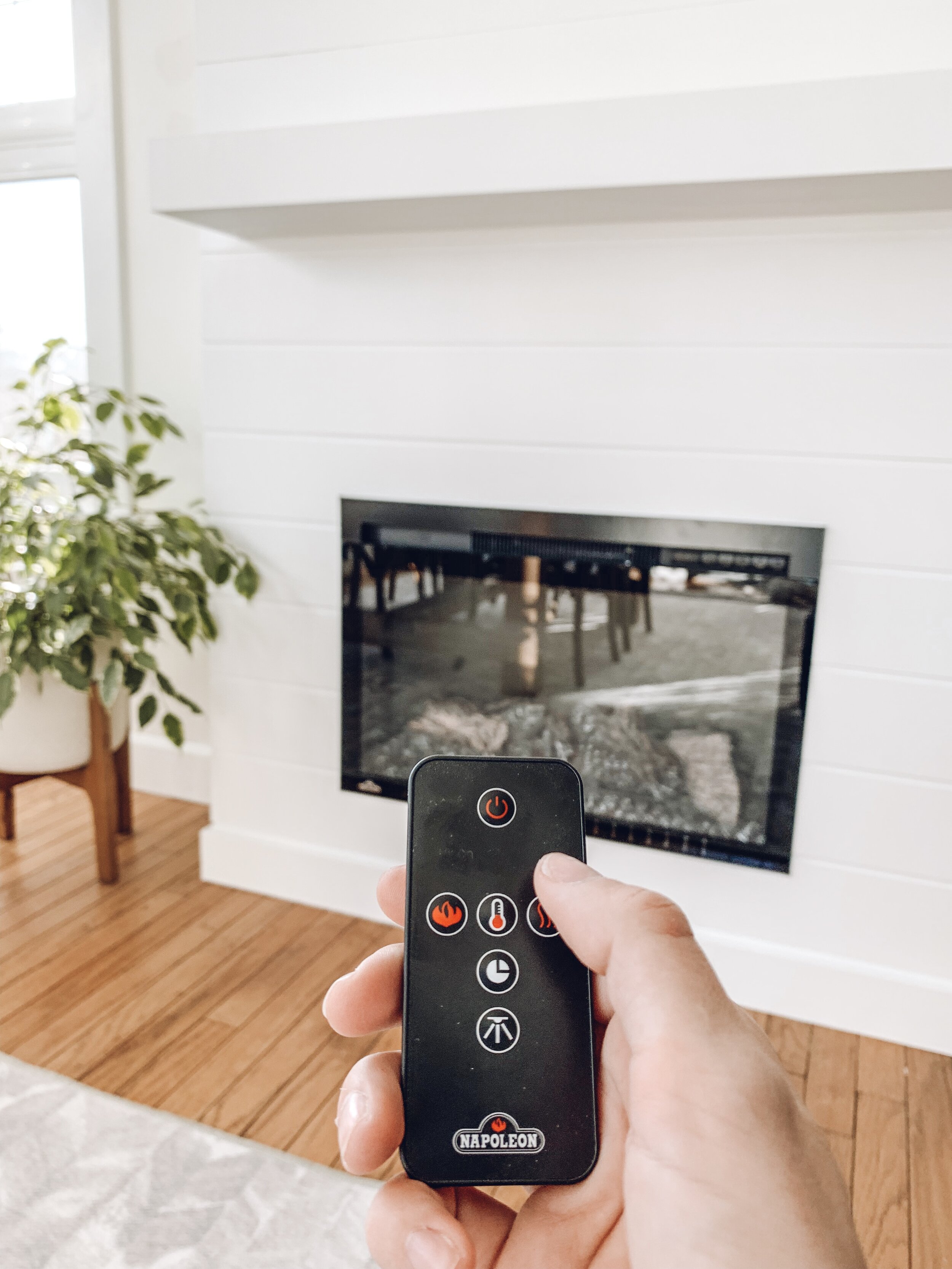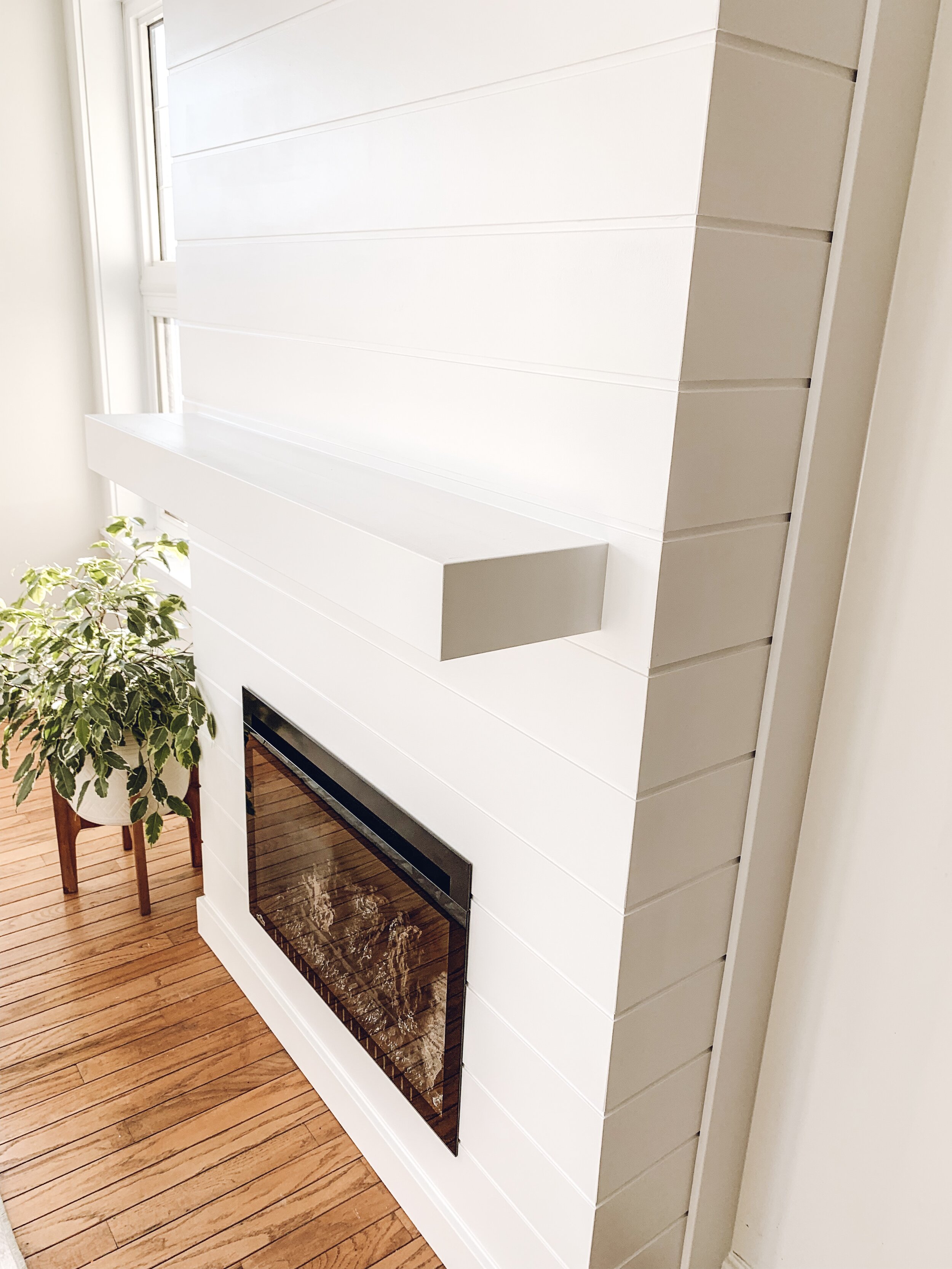 Thats it! My part is done, I will hand you back to Brittany, she is the one in charge of making it look even better.
It turned out so great and I love it so much! To finish it off I added a couple decor pieces that I can easily change out with the seasons and for holidays, and thats it!
The simple shape of this fireplace and classic shiplap finish make it a great choice for almost any interior design style! I also love similar projects I have seen done with brick or cement, but the shiplap is just sooooo much easier to work with and apply!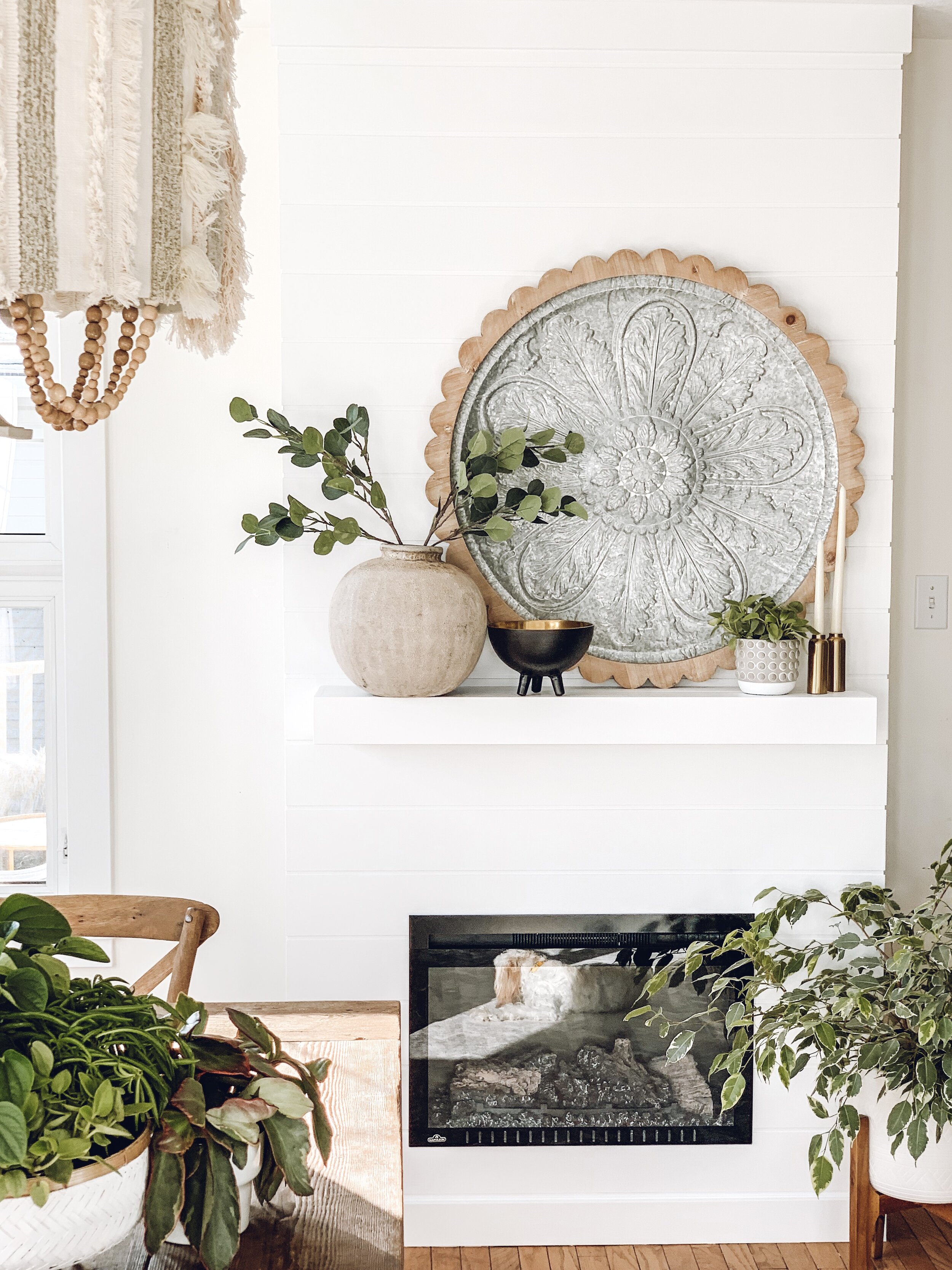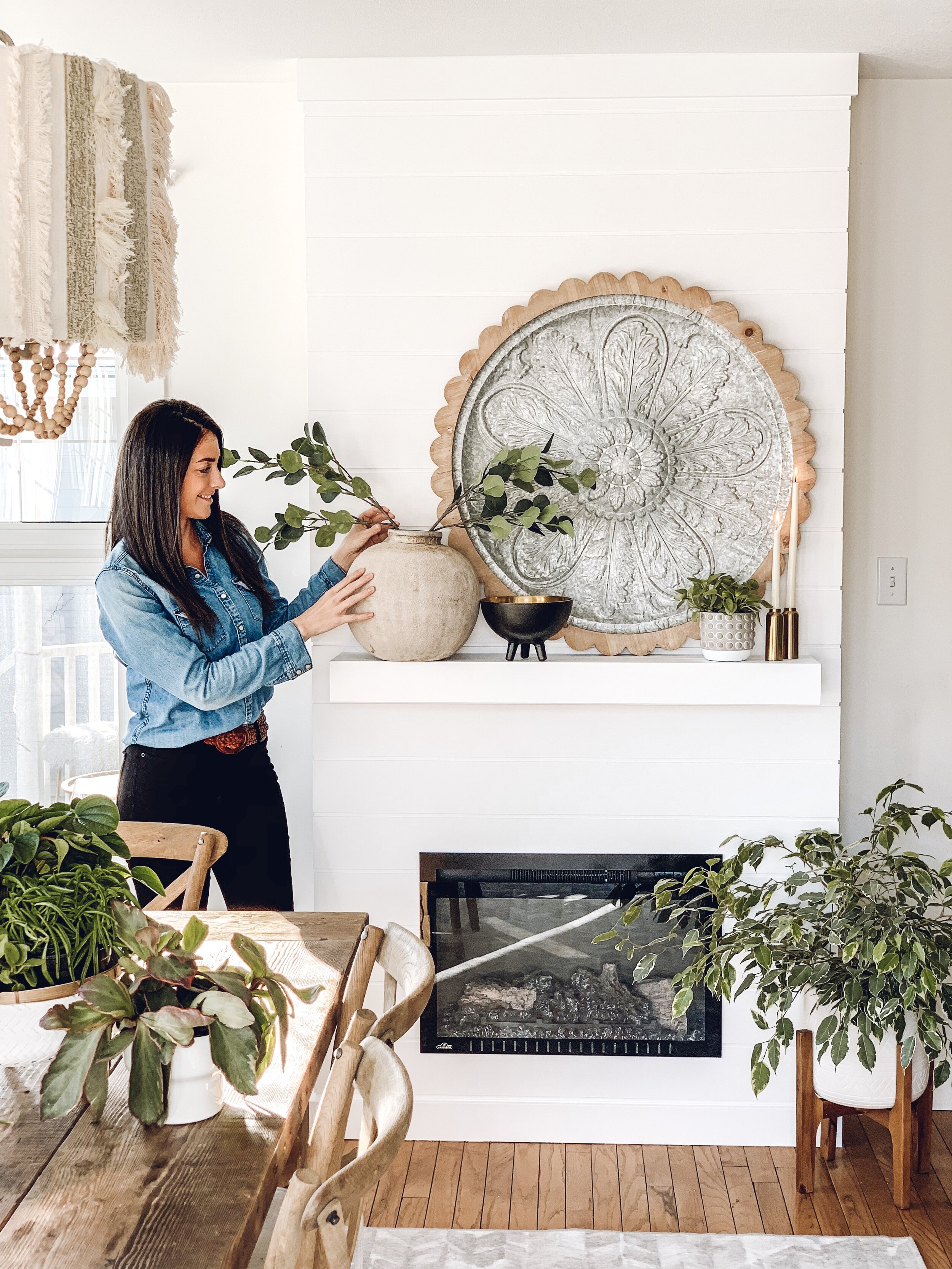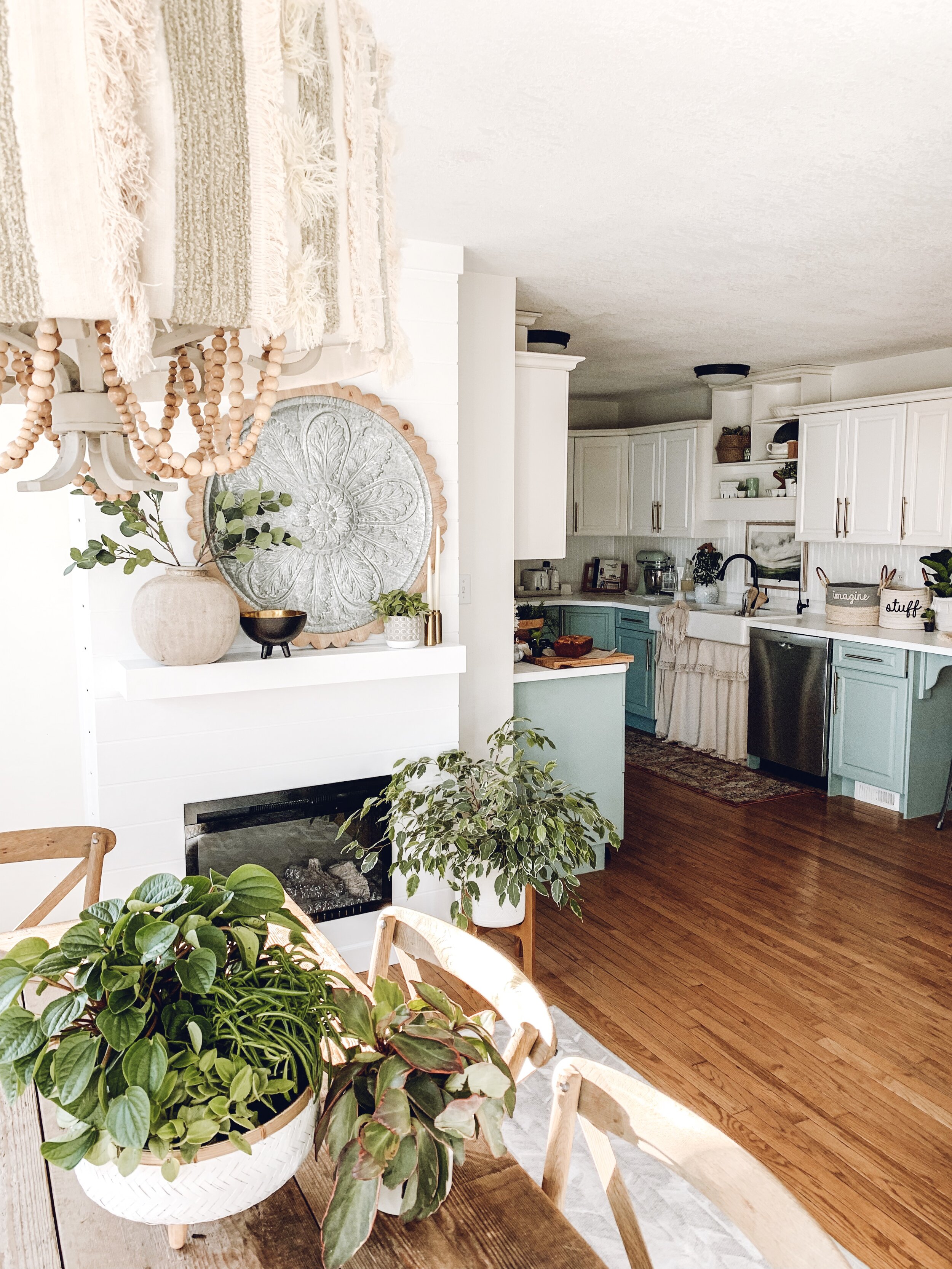 Pin for Later: White Shiplap DIY Electric Fireplace Tutorial
Other DIY Projects: