I get a lot of questions about throw pillows. Throw pillows just happen to be one of my favourite things to use for styling any space. I love the variety of ways they can change up a room and all the colours and textures that are available on the market. But I didn't always love playing with throw pillows in design. I used to find it overwhelming to pick throw pillows and always ended up with a sofa that looked straight out of a large furniture store catalogue.
My first tip when it comes to using throw pillows for design is to never use the pillows that come with your sofa if its from a store like the Brickand the like. Donate those pillows and start from scratch to achieve the "designed, but cozy cottage" look.
My next tip is to build a curated pillow collection!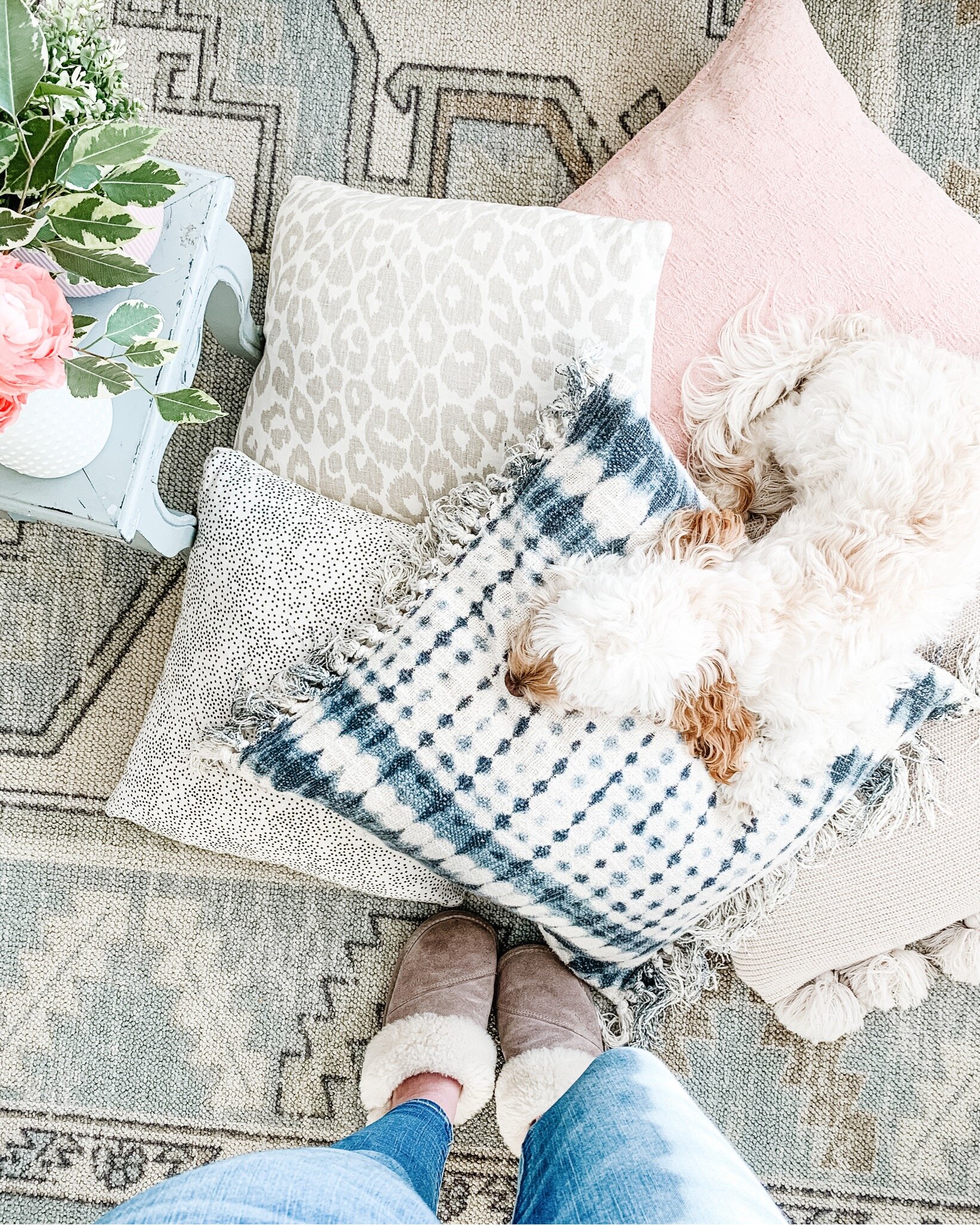 Similar to building a minimalist curated wardrobe (think 10 item wardrobe), building a throw pillow collection starts the same way, with neutral basics. These are going to be your building blocks for every look you create in your living or family room with throw pillows. I lean towards natural fabrics because they look the softest, and well, the most luxurious! However even though they look expensive, they do not in fact have to cost a lot of money.
I like to start with purchasing large linen pillows in solid colours. By large I mean at least 20×20 but even up to 24×24. I have found H&M home to be the MOST affordable place for large linen pillows and they are super well made. I also have purchased large 24×24 pillows from Homesense, Marshalls, and Home Goods in soft natural fabrics from the bedding section.
Next I build my collection with neutral pillows that come with great textures. Think woven pillows, pillows with tassels or pom pom's. Any added texture to your otherwise neutral pillow is a go in my books! I love to look for textured, neutral pillows on Etsy, Urban Outfitters, TJ Maxx (same as Homesense if you are in Canada like me), H&M home, Simons, Anthropologie (if you have a large pillow budget), Target, and Amazon. Textured pillows are very popular though now a days, so really any store that carries throw pillows will most likely have a couple great options for neutral textured pillows!
Lastly I build my collection choosing a couple pillows in colours that I love. This means that although I may buy an affordable trendy coloured pillow once in while, I tend to stick to choosing colours I have loved over the years. For me this includes pinks, soft pastel greens and blues ( hello sea-foam green, my love for you is still strong) and navy. Included in coloured pillows would be solid color pillows with texture or multi colored pillows with or without texture.
And that's my method to building a pillow collection you can build off of for years!
A quick tip when in comes to purchasing your pillow inserts. I like to buy mine from Ikea, Amazon or H&M home in either a full size larger than your case OR the same size but two for one pillow. So if its a 20×20 pillow you would stuff it with a 22×22 insert (always, always, always down filled) OR stuff with 2 20×20 inserts. This will make your pillows full and fluffy looking. (Tip from Nesting With Grace on Instagram)
To recap, I start with building my collection around 2-4 large neutral linen or natural fibre pillows. The bulk of my collection is than built with 20×20 pillows that are still neutral in color but loaded with different textures and details. Lastly I keep my eye out for eye catching colours that have stood the test of time for me and the occasional trendy color pillow as long as its affordable because as we know classics stand the test of time and trends could be out by the time you drive home from Homesense with a truckload of orange pillows……
I hope this helps! For more styling inspiration make sure you are following along withy us on Instagram where we share lots of styled photos and stories!