It's almost finished! We are wrapping up all the last min. details on the flip house and I can't believe its done! This has been such a fun project, something we have dreamed of doing for years!!
One of my favourite projects we did in this house was taking a pretty boring and bland basement bathroom and turning it into something pretty special with the help of Smart Tiles!
We wanted to make a statement in this bathroom but didn't have a lot of time to spare. Insert Smart Tiles. These tiles are installed without any specialized tools or adhesives. We went with the XL Large Oslo White tile and I can honestly say when they arrived I was blown away with how real they look. They come with a grey grout line that is the perfect neutral shade of grey and we were super impressed with the quality of this product.
Like I mentioned, we wanted a high impact statement in this space but had very little time. We were able to take a tiling project that would typically take 2-3 days and get it done in 2 hours! These tiles were super easy to install and we can't recommend them highly enough.
Smart Tiles are a peel and stick "tile" that doesn't require any extra glue or grout to install. Jade just used a level and drew a line where we wanted to start and off he went! To check out more of the installation process you can head over to our stories in Instagram under the highlight "Smart Tile". These tiles are heat and humidity resistant,so perfect for the bathroom wall AND they can easily be repositioned while you are placing them, without damaging the wall, so they are stress free too. Oh and did I mention they are entirely made in Canada!! Love that.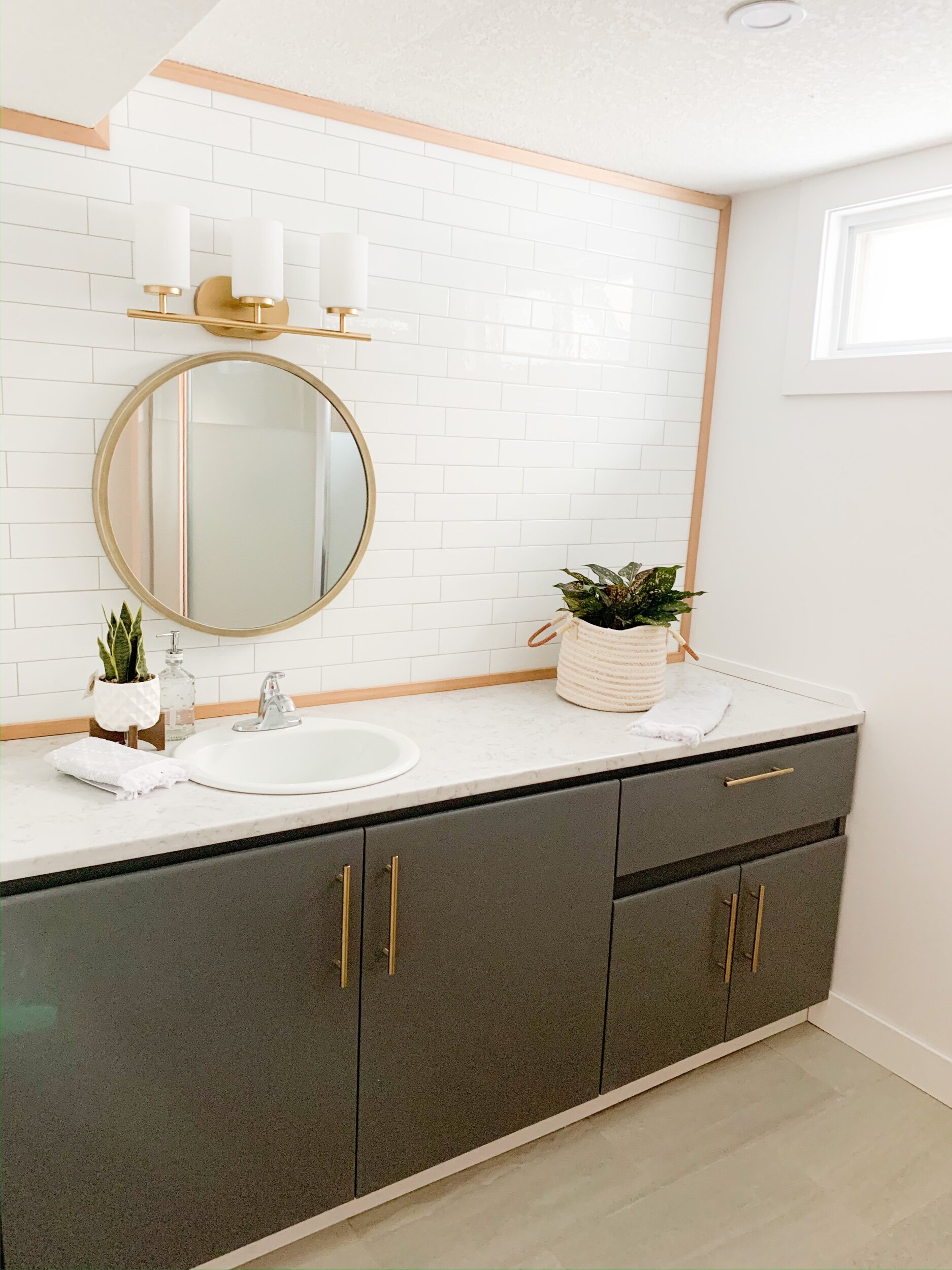 We absolutely love how efficient they were to apply and think they look pretty great in this bathroom renovation. Thank you Smart Tile for partnering with us on this project! To check out more about our flip house experience, make sure you are following us on Instagram at @the.beautyrevival.